JPMorgan, the Last Domino Standing, Finally Sees Its Shares Fall
(Bloomberg) -- For the first time this year, all big banks are seeing red.
JPMorgan Chase & Co. tumbled into negative territory for the year on Tuesday, joining rivals who were already there. Coupled a plunge in Treasury yields, the move helped spur an almost 4 percent retreat in the KBW Bank Index.
"That's something that has not happened all year," Matt Maley, equity strategist at Miller Tabak + Co., wrote in a note to clients.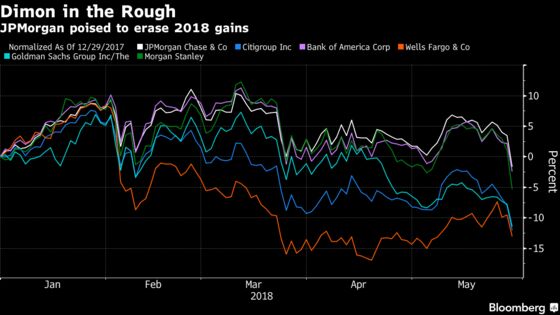 In many ways, JPMorgan's late to the party. Every major money center bank such as Bank of America Corp. and Citigroup Inc., as well as large investment banks like Goldman Sachs Group Inc. and Morgan Stanley, has already endured a period of year-to-date declines prior to the selloff.