Japan Bond Veteran Eyes `Smart Beta' Opportunity as Returns Sink
(Bloomberg) -- With the Bank of Japan's fixing of the government bond yield curve decimating investor returns in the world's second-biggest public debt market, it takes some creativity -- and a lot of math -- to come up with ways to make money.
At least that's the thinking of Tadashi Kikugawa, a three-decade veteran of the local bond market who's marketing what he calls a "smart beta" strategy that can offer pension funds extra returns. The Nomura Holdings Inc. managing director, who heads quantitative index strategies at the company, has analyzed various factors that might offer a margin over benchmarks in the government bond market that's worth the equivalent of $10 trillion.
Pension funds could use all the help they can get when it comes to JGBs. Japanese government debt returned 0.144 percent in 2017, the first full year under the BOJ's yield-curve control policy, ICE Bank of America Merrill Lynch data show. That was the worst performance since 2003, when expectations for a rollback in BOJ stimulus sent JGBs tumbling.
"The market still has anomalies" that investors can take advantage of, Kikugawa said in an interview earlier this month in Tokyo. "As long as there's a nominal" rate, strategies can be created, he said.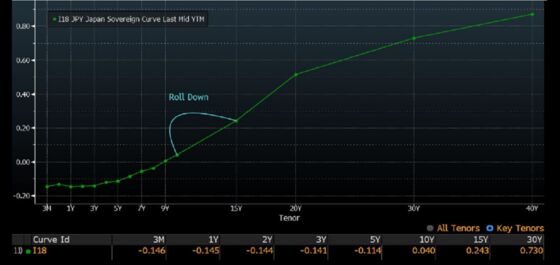 Kikugawa, drawing on the mathematics knowledge from a college degree in physics that he applied in decades of trading, crafted three potential "smart beta" strategies for fixed income -- using credit, duration and carry-and-roll-down.
His research suggested the carry-and-roll-down strategy offers most promise. It involves deriving mark-to-market gains earned when there's an upwardly-sloping yield-curve. For example, buying a 10-year bond at the current yield of 0.035 percent will show a return if in a year's time nine-year bonds continue to yield the current 0.009 percent. On top of that, investors will gain the positive "carry" over short-term rates, now negative in Japan.
By constructing an index of carry-and-roll-down strategies that has the same credit and duration risk as the JGB benchmark, investors can earn a premium, Kikugawa calculates.