Biggest Bond Rally Since 2016 Came at Right Time for Hedge Funds
(Bloomberg) -- Speculators in Treasuries futures proved prescient coming into this week: They turned bullish on two-year notes and pared short bets on 10-year debt heading into the biggest bond-market rally since 2016.
An escalating political crisis in Italy roiled financial markets Tuesday and drove investors to the safety of Treasuries. Two-year yields fell about 16 basis points to 2.32 percent. Ten-year yields sank 15 basis points to 2.78 percent, for the steepest drop since June 2016.
Just last week, hot-money accounts flipped to a bullish stance on two-year notes for the first time in a year, according to the latest Commodity Futures Trading Commission data. The shift came just days after yields on the maturity, the most vulnerable benchmark note when it comes to expectations for Federal Reserve policy, touched the highest in a decade.
BMO Capital Markets rates strategist Aaron Kohli said speculators may see a risk that the European turmoil -- which could result in a de facto referendum on Italy's membership in the euro -- slows the Fed's rate-hike plans.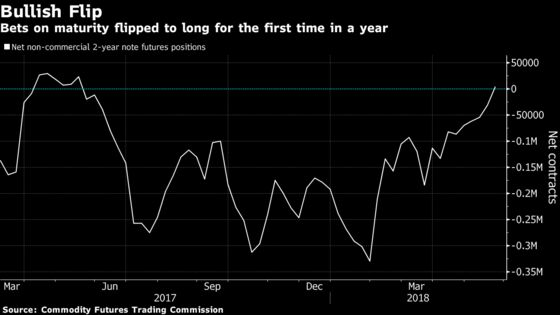 "People are running to the havens as the rhetoric in Italy has heated up," said Kohli, an interest-rate strategist. "With all the global central banks tightening -- or removing accommodation -- the cushion and buffer against these adverse events is drying up. We are in an environment now where Treasury yields will take the stairs up and the elevator down."'
The speculative tide appears to be turning in more than just two-year notes. Some traders may be getting washed out of wagers that 10-year yields will rise back above 3 percent. While there's still a large short position in the maturity, traders have pared it from a record.
The shrinking bearish stance may be just the start of a sizable short squeeze, given how extreme the positioning was, Kohli said.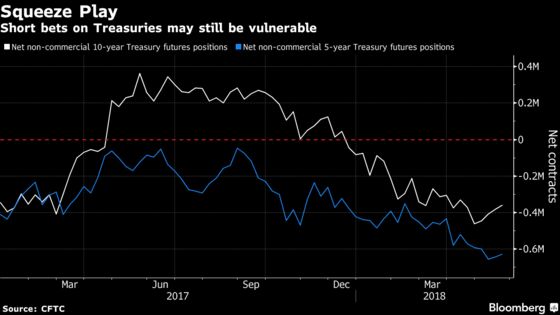 Benchmark 10-year yields have dropped from 2.93 percent at the end of last week, and an almost seven-year high of 3.13 percent set May 18. U.S. markets were shut Monday for a holiday.
"Going forward, the haven demand will be more about the 5- and the 10-year note as the market becomes more acutely aware of these global risks, which already are much bigger than we thought just last week," Kohli said.