Italian Pain Is European Exporters' Gain as Turmoil Sinks Euro
(Bloomberg) -- There's a silver lining to the Italian political storm: the tumbling euro.
For the past year, a strengthening currency has been constraining the recovery in European corporate earnings, hurting exporters in particular. In recent weeks, the picture has changed: the euro has lost about 7 percent since mid-April and dropped to levels not seen in 10 months as attempts to form a government in Rome floundered, thrusting Europe into crisis once again.
After the euro climbed as high as $1.25 in February, equity analysts responded by slashing their profit estimates for the region. The current slide in the currency has reversed that trend, with analysts slowly starting to upgrade their projections. Profits for Stoxx 600 companies are currently seen rising 5.8 percent in 2018, up from 4.2 percent in early-April, according to data compiled by Bloomberg.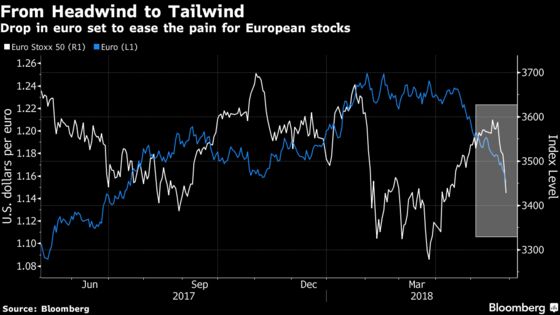 The latest figures still pale in comparison with expected profit growth of 23 percent for this year for S&P 500 companies. This means there could be room on the upside for European earnings estimates, now that the euro is firmly below $1.20, a level strategists and investors see as a pain threshold for companies.
Given the usual lag of a few months between currency moves and earnings revisions, European stocks could see profit upgrades in the coming months if the Italian political crisis doesn't completely derail the euro-area's economic recovery. Strategists have said that a 10 percent swing in the euro usually translates into a 5 percent to 6 percent move in European earnings.
But not all the region's companies will benefit from the falling currency, said Isabelle Mateos y Lago, chief multi-asset strategist at BlackRock Investment Institute. "The impact of the contagion from Italy is asymmetrical across the euro zone. The winners of a lower euro will mostly be French and German companies, which won't see much of a rise in credit costs."
For southern European companies, the sudden resurgence of political jitters means credit conditions could quickly deteriorate, which would offset the benefits of a lower currency, Mateos y Lago said.