Investors Already Bailing on Europe Funds in Throes of Turmoil
(Bloomberg) -- There's one overriding message in the latest batch of global fund-flow data: investors want to be anywhere but Europe.
As Rome's political upheaval spurs gyrations across the continent, $17.5 billion has been yanked this quarter from mutual and exchange-traded funds that invest in European stocks, according to data compiled by Stanford C. Bernstein. The portfolios are now heading for their 11th week of outflows, the longest streak since 2016.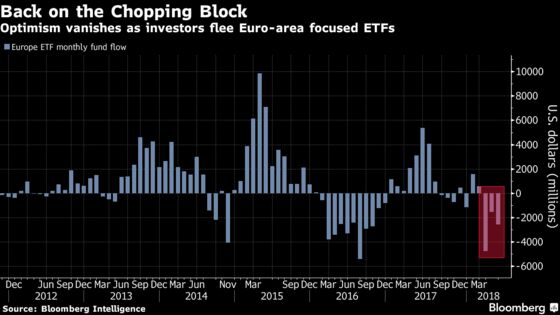 The rush for the exit has laid to rest a narrative about the attractiveness of Europe that emerged among strategists from Citigroup Inc. to Goldman Sachs Group Inc. to start 2018. The argument then was that economic growth and attractive valuations compared to U.S. peers would spur a strong rally this year.
In practice, the opposite has taken place, with all regions outside of Europe in both the developed and emerging world benefiting from the money rushing out of the single market, according to the data. The trend is bad news for hedge funds because European financials was one of their most commonly-held long positions going into May, according to data from Credit Suisse's prime brokerage platform.
Despite the fact that earnings season resulted in upside surprises for companies in Europe, "we recognize that economic growth is no longer as synchronized as last year and may have peaked," the strategists from Bernstein, headed by Mark Diver, wrote in a note published Tuesday. "Geopolitical risks look to be on the rise once again."