Hedge Fund Giant Sees More Pain to Come for Indonesian Debt
(Bloomberg) -- Indonesian bond holders have had a rough ride this year. But the pain isn't over yet, according to the world's largest publicly traded hedge fund firm.
Man GLG, a unit of Man Group Plc, predicts more losses for rupiah debt as risk appetite weakens and Bank Indonesia is forced to raise interest rates and defend the beleaguered currency.
"The tightening of global financial conditions that we see coming are not yet fully priced in Indonesian local markets," Jose Wynne, portfolio manager on Man's emerging markets debt team in New York, said before the central bank rate decision on Wednesday. "We believe the central bank's monetary policy stance was too loose before global jitters started and Bank Indonesia may be required to keep adjusting interest rates higher to avoid falling behind the curve."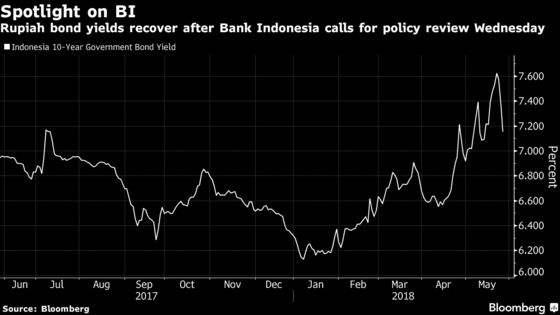 Indonesia's currency has slumped and 10-year government bond yields have surged this year amid an emerging-market rout triggered by rising U.S. interest rates and a stronger dollar. The country's new central bank governor tightened policy at an unscheduled policy review on Wednesday, the second interest rate increase in two weeks to stem the losses.
The yield on Indonesian notes maturing in a decade has climbed as much as 136 basis points since the end of January, touching a 15-month high of 7.6 percent last week. That compares with about a 40-basis point advance for similar-maturity Indian notes and around a 30-basis point increase for Malaysian securities.
Bond yields could continue to widen until either the global environment stabilizes or Bank Indonesia acts more decisively, according to Wynne. The currency seems a bit expensive, and foreign reserves are not "abundant" for the size of the economy, he added.
The rupiah has lost about 3 percent in 2018, and sank to the lowest in over two years last week. The currency gained 0.1 percent to 13,985 per dollar after the rate decision, adding to the 0.9 percent advance on Monday.
In some ways, the pressure points for Indonesian bonds aren't new.
Southeast Asia's biggest economy has run a current-account shortfall since 2011 and foreign ownership of its bonds -- at around 38 percent -- has consistently been higher than that of regional peers including Malaysia and Thailand.
In recent years, the search for yield overshadowed these risks but as caution toward emerging markets grows, money managers are becoming more discriminating.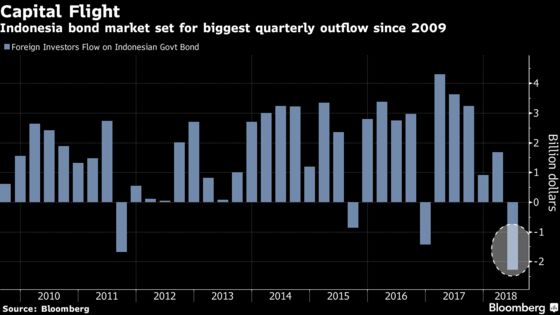 Overseas investors have sold Indonesian government bonds in two of the past three months, taking outflows this year to $522 million. After buying a record $12 billion in 2017, investors are cashing out this year as a stronger dollar and higher U.S. yields diminish the appeal of risk assets.
Indonesian bonds "appear to be slightly more vulnerable given foreign ownership technicals as U.S. Treasury yields appear to be trending up," said Gregory Saichin, chief investment officer for emerging-market bonds at Allianz Global Investors in London.
Bank Indonesia is aware of the risks. The week he was sworn into office, Governor Perry Warjiyo vowed to "be more preemptive, front loaded and ahead of the curve regarding key rate." He has led the board to increase the seven-day reverse repurchase rate by 25 basis points to 4.75 percent.
Still, Indonesian debt hasn't lost all its fans. JPMorgan Asset Management likes longer-dated rupiah bonds, citing the nation's impending inclusion in the Bloomberg Barclays Global Aggregate Bond Index and the low core inflation rate. Meanwhile, a stable political environment and sound fundamentals add to the positive outlook, according to Didier Lambert, a London-based portfolio manager who helps oversee $44.8 billion in global emerging-market debt.
Similarly, Western Asset Management Co. is long on rupiah bonds and expects Bank Indonesia to continue tightening should the weaker currency boost the inflation rate beyond its target, Gordon Brown, co-head of global portfolios, said in Sydney. "We think real rates are quite attractive there," said London-based Brown.
Indeed, some investors are taking advantage of the recent volatility, seeing it as a buying opportunity.
"The fundamental case remains solid and valuations are now extremely attractive," said Jan Dehn, London-based head of research at Ashmore Group Plc, which oversees about $77 billion of developing-nation assets. "This is the first real entry point opportunity emerging-market investors have had for more than two years."