Gene Editing Pioneer Skyrockets Ahead of First Human Trial
(Bloomberg) -- Crispr Therapeutics AG's stock has soared to repeated record highs, sextupling in value to $3 billion, as analysts have leap-frogged over one another to assign fresh Street-high price targets. This for a company that has yet to hold even a single clinical trial.
Crispr aims to create therapies using the break-through gene editing technology it shares a name with to rid patients of rare blood diseases like beta-thalassemia and sickle cell disease. The excitement and potential of CRISPR/Cas9 has taken Wall Street by storm, helping shares rally close to 200 percent this year.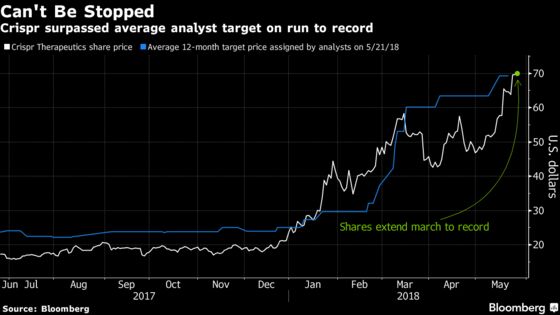 "We're creating a whole new class of medicines," Chief Executive Officer Samarth Kulkarni said during an interview at Bloomberg's headquarters in New York on Friday. "We have more institutional ownership and that's a good thing because that allows us to raise capital so we can put a billion dollars to work over the next three, four years to make this company great."
Bullish investors and analysts alike have tried to gauge how far the field's "pioneer" can help drive the science, before it has even dosed a patient in a clinical trial. While some skeptics may point to a lack of human results, the potential for the technology remains vast as Kulkarni highlighted the potential to cure "a number of diseases" with a one-time gene editing therapy.
Crispr's first chance in humans will come this year when it doses the first patient in the lead study of its therapy for beta-thalassemia. The company also aims to take the treatment, known as CTX001 and partnered with Vertex Pharmaceuticals Inc., and study it as a cure for sickle cell disease. The Basel, Switzerland-based biotech's pipeline doesn't end there: it boasts three wholly owned immuno-oncology assets, in addition to potential therapies for cystic fibrosis and Duchenne muscular dystrophy.
While Crispr is at the forefront of a field that has "captured the imagination" of scientists and investors alike, management views acquiring capital to fund expansion as a "careful calculus."
"We feel like we can move very quickly on our own and we don't want to encumber ourselves with partnerships if we don't have to," he said. "We're growing rapidly and the goal is to build the next great company like Genentech or Regeneron here. These are the first forays into the clinic, but there will be many more."