Bridgewater, Marshall Wace Gain as Italy Turmoil Hits Stocks
(Bloomberg) -- Hedge funds including Bridgewater Associates and Marshall Wace are making a killing on their wagers against financial stocks in Italy as the nation's political turmoil reverberates through Europe's periphery.
Banco BPM SpA and Intesa Sanpaolo SpA were some of the biggest losers on Monday and Tuesday as Italy's populist parties began mobilizing for an early election, raising fears of another looming crisis in in the region. The contagion spread to financial shares in Portugal and Spain, with Banco Comercial Portugues SA, the biggest loser in the sector. The Euro Stoxx Banks Index was down 4.6 percent.
Banco BPM is the favorite Italian target, with eight money managers, including Lansdowne Partners, betting $341 million against the company, according to data compiled by Bloomberg.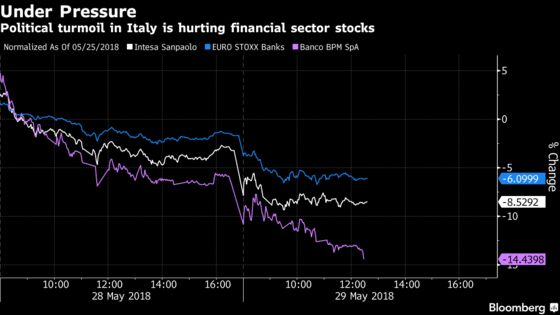 Italy's euroskeptic parliamentary majority is looking to strengthen its hand in a new election after President Sergio Mattarella blocked it from taking power. Germany's top financial regulator, Felix Hufeld, added that he's worried about potential risks to the euro zone from the deadlock, citing the high exposure of German and French banks to Italy.
Billionaire George Soros, meanwhile, warned of another "major" financial crisis in a speech in Paris on Tuesday and said a refugee crisis in Europe was leading to populism and disappointment over the failure of the authorities to cope with the problem.
"When that happened in Germany, the AfD was empowered and it has grown into the largest opposition party," Soros said. "Italy has suffered from a similar experience recently and the political repercussions have been even more disastrous: the anti-European parties almost took over the government."
Biggest Financial Sector Shorts

Company
Short Bet (USD, Millions)
Disclosed Holders
Banco BPM
-340.87
8
Intesa Sanpaolo
-335.59
1
Assicurazioni Generali
-322.08
2
UBI Banca
-296.08
5
UniCredit
-275.31
1
Short sellers sell borrowed shares, hoping to buy them back at lower prices and pocket the difference as profit. Bridgewater, which had drawn investors' attention after putting on a $22 billion wager against European companies earlier this year, was making money on its reduced Italian bet worth about $1.6 billion on Tuesday. The bets only make up part of Bridgewater's positioning in Europe, Karen Karniol-Tambour, head of investment research at the world's largest hedge-fund firm, said in March.
Bridgewater is the biggest disclosed short seller of Italian financial shares, according to data compiled by Bloomberg.
Officials for Intesa, Assicurazioni Generali, Marshall Wace, Bridgewater and Lansdowne Partners declined to comment. Banco BPM, UBI Banca and UniCredit representatives didn't immediately answer calls and emails seeking comments.