Bank Stocks Battered as Italy Re-Awakens Euro Breakup Fears
(Bloomberg) -- Europe's bank stocks took a beating Tuesday as Italy's political woes shone a harsh light on the region's failure to resolve the structural tensions that caused the debt crisis earlier this decade.
Trading in Italy's largest banks, Intesa Sanpaolo SpA and UniCredit SpA, was suspended temporarily after both fell 5 percent. After resuming, both recovered slightly and have now lost over 20 percent in the past month.
Italy is facing new elections that will likely strengthen two parties -- the anti-establishment Five Star Movement and the euro-skeptic Lega party -- that want to challenge the currency union's orthodoxy head on.
Markets are again starting to price in the risk that the euro may lose its third-largest economy. And as in 2012, they have zeroed in on the connections between Italy's banking system and its sovereign debt burden, the biggest in the EU.
"The 'doom loop' is still there and it's pretty strong in Italy," Francesco Papadia, a former director-general at the European Central Bank and now a senior fellow at the research institute Bruegel, said in a podcast Tuesday.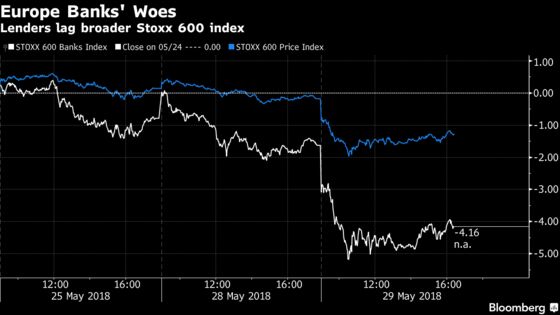 According to ECB data, Italian banks held nearly 404 billion euros ($466 billion) of sovereign debt at the end of April -- some 10.8 percent of their total assets. Euro-zone banks' sovereign debt holdings are typically concentrated in domestic bonds, which leaves them exposed to nation-specific volatility. Italy has had plenty of that in recent days: the benchmark 10-year yield hit a four-year high of 3.10 percent earlier Tuesday, from only 2.34 percent at the end of last week. Short-term yields have more than doubled in the same timeframe from 0.84 percent to 2.19 percent by 3:30 p.m. in Milan Tuesday.
The Five Star and Lega parties denied allegations by their Democratic Party rivals that they had a plan to pull the country out of the euro if they took power. Meanwhile, Bank of Italy Governor Ignazio Visco said in a speech in Rome that Italy faces the "very serious risk of losing the irreplaceable asset of trust," and that "Italy's destiny is that of Europe."
UniCredit Chief Executive Officer Jean Pierre Mustier sought to calm markets in an appearance on Bloomberg Television. "The sell-off of Italian bank stocks is unjustified," Mustier said. "The fundamentals of Italy are very good, the economy is good, corporates are positive and consumers are positive." He said his bank is comfortable with its holdings of Italian sovereign debt, which amount to approximately 42 billion euros.
Elsewhere in Europe, Germany's Deutsche Bank AG fell to its lowest in nearly two years, dipping as much as 5.7 percent. It had 35 billion euros in credit exposure to Italy at the end of 2017, about 4 percent of its total. France's BNP Paribas SA, which has exposure to Italy of over 78 billion euros through subsidiary Banca Nazionale del Lavoro, fell 4.3 percent.
Many of Spain's banks were among the biggest losers Tuesday, reflecting lingering concerns about their solidity since a euro-zone-funded bailout in 2012. Bankia SA, Caixabank SA and Banco de Sabadell SA all fell over 4 percent.
Germany's top financial regulator, BaFin President Felix Hufeld, told CNBC that the risk of contagion is real and that he's "absolutely" concerned by spillovers across the eurozone. "There is always a risk of contagion between all banks," Hufeld said.
But others warned against exaggerating the risks. The euro zone has more tools to stop contagion now than it had in 2012, and even a worst-case outcome would affect the rest of the region much less than it would for Italy, Berenberg Bank Chief Economist Holger Schmieding said in a research note.
"A repeat of the euro crisis marked by rampant contagion looks highly unlikely," Schmieding said. "The issue is how bad a potential Italian crisis could be."