U.S. Stock Futures Rise as Trump-Kim Summit Appears Back On
(Bloomberg) -- U.S. stock futures rose in Asian trading as President Donald Trump appeared to confirm the summit with North Korean leader Kim Jong Un was back on, three days after it was abruptly called off.
S&P 500 Index futures climbed 0.5 percent at 7 a.m. in London. Nasdaq 100 futures added 0.6 percent, while those on the Dow Jones Industrial Average rose 0.4 percent. U.S. markets will be closed Monday for Memorial Day.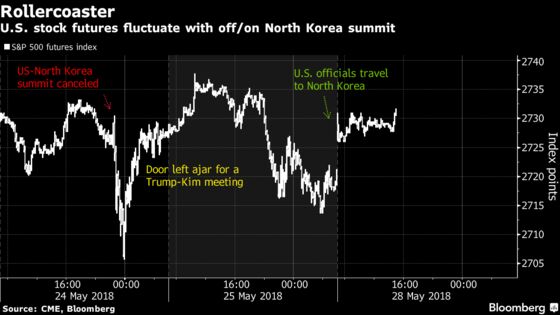 The risk-on in U.S. stock futures comes as the State Department confirmed reports that a U.S. delegation is meeting with North Korean officials to prepare for the summit, which had been set for June 12 in Singapore. Monday's advance pared losses incurred after Trump canceled the meeting last Thursday.
"We're seeing a positive start to the week just because of that North Korea flip," said Nick Twidale, chief operating officer of Rakuten Securities' Australian unit. "Into Europe today, there will be a lot of focus on the oil market and Italy."
U.S. stocks fell 0.2 percent on Friday after oil tanked the most in 11 months on concerns over more supply from OPEC. Italy sank deeper into political uncertainty after President Sergio Mattarella rejected euro-skeptic Paolo Savona as finance minister.