Markets Convulse as Italy Is Seen on Course for New Elections
(Bloomberg) -- Chaos ruled Italian markets as the nation plunged deeper into political turmoil.
Yields on the nation's two-year bonds surged to the highest in four years in holiday-thinned trading, while stocks slumped for a fourth day as President Sergio Mattarella asked economist Carlo Cottarelli to form a government to pave the way for new elections due as early as the fall. Earlier, League leader Matteo Salvini said that it made no sense for Italy to remain in the European Union unless the bloc rewrote its rules.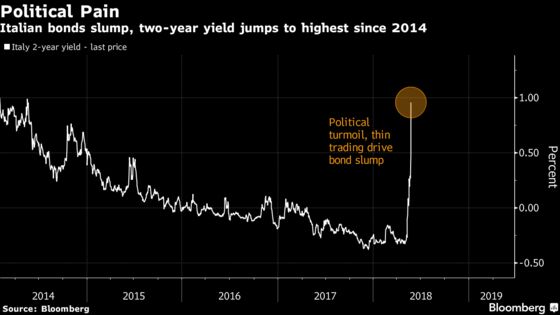 Italian assets surged earlier in the day after Mattarella vetoed populist leaders' choice of a euro-skeptic candidate, Paolo Savona, for finance minister. The anti-establishment Five Star Movement said it was considering proposing impeachment of the president, while League's Salvini reiterated supporting Savona's candidacy and made a thinly veiled call for fresh elections.
"The relief rally turned into a selloff," in Italian bonds, said Rene Albrecht, a rates and derivatives analyst at DZ Bank AG in Frankfurt. "This was mainly due to comments such as Salvini saying he wants to stick with Savona for finance minister and discussions on new elections."
"There's a high probability that Five Star and the League could get a majority again, and we would be back at this point where we get a government which wants to spend a lot more than they earn and clashes with EU rules," DZ's Albrecht said. "This is triggering some kind of flight to quality where bunds are outperforming today and BTPs are underperforming."
Two-year yields doubled from Friday to 0.99 percent before being quoted at 0.96 percent as of 3:23 p.m. Rome, while 10-year rates climbed 23 basis points to 2.70 percent. The FTSE MIB was 2.3 percent lower on the day, and more than 10 percent down from a peak reached on May 7.
Mattarella became the target of populist rage when he said he rejected their choice for finance minister for the good of the country and the financial "savings of families" that had been endangered by rising bond spreads and market concerns. On Friday, Moody's put Italy's credit rating on review for a possible downgrade, citing risks to its fiscal strength from the government plan put forward by the populists.
Below are some analyst comments on Italian markets:
Outcome of any fresh vote looks "more threatening than ever"
Investors will therefore need to be "brave" if they want to hold 10-year BTPs at 220bp over bunds, ahead of prospect of serious challenges in autumn when fears for capital recovery may loom
Mattarella's decision to reject Savona, and the decision of the radical party leaders Salvini and Luigi Di Maio to not present a more suitable candidate for finance minister do carry significant risks, according to Chief Economist Holger Schmieding

Italy's divisive political debate may shift to the euro, from migration, possibly paving the way for a confrontation with the EU later on

Even if the immediate risk of having a euro-skeptic finance minister in Italy has now been at least postponed, Italian uncertainties will continue to weigh heavily on sentiment in Italy and -- to a lesser extent -- its euro-zone neighbors in coming months
Doesn't see fresh elections before October
President Mattarella has unmasked League and Five Star; next political campaign would likely resemble a euro referendum
"The euro cat is out of the bag," though Fidentiis doesn't think that Italians are going to vote out
Any relief rally may not be sustainable as risk premium on Italy will remain high before new elections