From Trader Favorite to Bear Market: Vietnam Stock Reversal
(Bloomberg) -- Vietnam's stock market, which only last month traded at a record high, has entered a bear market.
A decline of as much as 3.8 percent on Monday pushed losses in the VN Index to 23 percent from a peak in April. The benchmark measure, which was the year's best performer in Asia Pacific just weeks ago, is now the world's biggest loser for the quarter.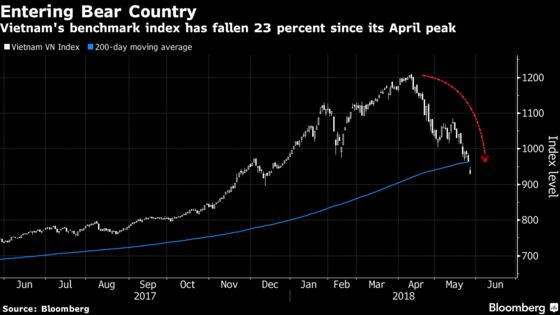 "The negative sentiment remains in the market as cash flows remain light," said Tyler Cheung, head of the institutional client division at ACB Securities JSC in Ho Chi Minh City. "The sentiment is partially driven by the persistent net foreign selling. Not much positive news coming out to support the market at the moment."
The VN Index erased its annual gains last week and is now down 5.3 percent for 2018 as foreign investors have fled the market. They've been net sellers of the equities in all but two days this month, according to data compiled by Bloomberg. VN Index stock volume has dropped to a daily average of about 127 million shares in May, the least since January 2017.
Some investors see a silver lining in the equity-market collapse, viewing it as necessary after five straight quarters of rallies. The VN Index now trades at about 15.1 times estimated earnings for the next year, closer to its three-year average valuation of 14.5 times. Its relative strength index, an indicator of market momentum, shows that the country's shares are in oversold territory.
On Monday, almost three-quarters of VN stocks fell, with banking and energy companies contributing the most to the losses.