China's Drugmaker Shares Are Red Hot, But So Are Valuations
(Bloomberg) -- A company that makes medicine out of snake gall bladders has seen its shares surge this year as health-care companies became China's most popular stocks.
In a market buffeted by the fallout from the U.S. trade disputes, mainland investors have been seeking shelter in firms, like traditional medicine maker Zhangzhou Pientzehuang Pharmaceutical Co., that make almost all their sales at home. It also doesn't hurt that China's health-care industry is expected to post above average profit growth of more than 20 percent for the next three to five years, Bloomberg estimates show, as China's massive population ages and gets wealthier.
That's all added up to scorching gains: drug makers and other health stocks are by far the best-performing corner of the Chinese market in 2018, up nearly 30 percent through Monday before a slump on Tuesday dented their performance. Valuations -- at levels unseen in a decade -- are shaping up as the biggest threat to a rally that's managed to overcome equity losses in almost every other industry.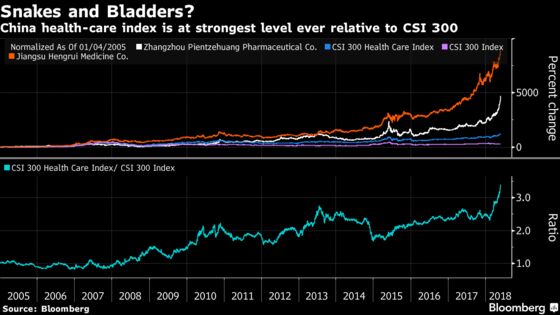 "The sector may touch a valuation ceiling soon if it rallies further," said Sun Jianbo, president of Beijing-based China Vision Capital Management. "However fast the future growth might be, it takes time for companies to realize that."
The CSI 300 gauge of health-care shares plunged in late trading on Tuesday, falling 5.1 percent in its biggest loss in more than two years, with analysts attributing the rout to concern about excessive valuations.
Bulls have been optimistic medical reforms, such as faster approvals for new drugs, will help established companies accelerate earnings growth even more quickly.
Market leaders like Jiangsu Hengrui Medicine Co. stand to benefit from nationwide efforts to promote the use of generic drugs in treatment, according to Dai Ming, Shanghai-based fund manager with Hengsheng Asset Management Co. Companies with solid distribution networks will be lifted by another reform to lower the price of drugs dispensed by hospitals and cut intermediaries in drug sales, he said.
"Many health-care firms are entering an innovation cycle -- they are able to develop new drugs which, if successful, will contribute big to future earnings," said Dai. "Valuations have expanded, but they are not yet at outrageous levels."
Keeping faith has proved rewarding. Hong Kong-listed CSPC Pharmaceutical Group Ltd. surged to a fresh record on Monday after better-than-expected earnings prompted brokerages from Goldman Sachs Group Inc. to Credit Suisse Group AG to lift their price targets. Other drugmakers including 3SBio Inc. soared, before falling today.
Yet the risks of a reversal were already rising before today's slump, given the priciest levels relative to global peers in a decade. Valuations on the CSI 300 Health Care gauge on Monday hit more than 36 times forward 12-month earnings, compared with an all-time average of 23 times. CSPC Pharma traded at 40 times projected profits, far higher than Tencent Holdings Ltd. or Alibaba Group Holding Ltd.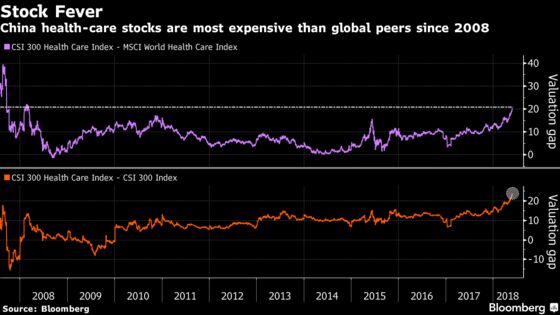 Investors betting that red-hot Chinese shares can only go in one direction have been disappointed before. Ping An Group Insurance Co., which nearly doubled in Shanghai last year, has tumbled more than 10 percent in 2018, while record earnings have failed to lift analysts' favorite Tencent out of its trough.
The medical sector is in need of a temperature check, given how high valuations have soared, said Gu Yongtao, an analyst with Cinda Securities Co. "Health-care shares are looking a bit risky right now."