Samsonite Response to Short Seller Fails to Stem Stock Rout
(Bloomberg) -- Samsonite International SA capped its biggest two-day stock plunge on record as investors dismissed the company's response to a short-seller's allegations of accounting lapses and poor corporate governance.
The world's largest branded-luggage maker dropped 12 percent in Hong Kong trading on Friday, to HK$26.90, the lowest level in more than a year. The company's shares have plunged 21 percent since Blue Orca Capital released its report on Thursday, resulting in a $1.3 billion loss in market capitalization.
The Mansfield, Massachusetts-based company said in a press release that the allegations are "one-sided and misleading and the conclusions drawn in the report are incorrect." Samsonite said it will provide additional information "in due course and as appropriate."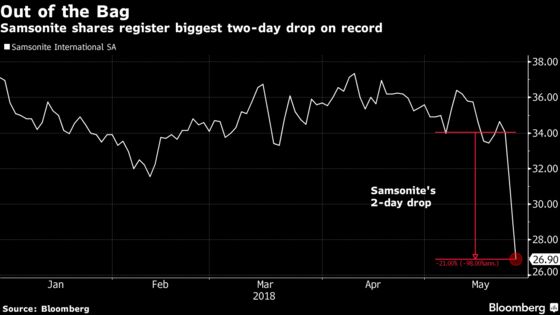 Blue Orca said that Samsonite had concealed slowing growth with debt-funded acquisitions. The short seller also cited questionable related-party transactions between Samsonite and Indian entities controlled by Chief Executive Officer Ramesh Tainwala and his family, and a revolving door of auditors at the luggage maker's South Asia unit.
Samsonite Chairman Timothy Parker said in the statement that shareholders should treat the report with caution. "I have full confidence in Ramesh's capabilities as CEO, and in the broader management team," he said. "We intend to draw a line under this matter as quickly as possible, and move on to focus on what is important – the future growth of our business."
Founded in 1910, Samsonite began life as a trunk manufacturing company and has grown into the dominant player in the $19 billion global market for luggage. It reported revenue of $3.5 billion in 2017, up 24 percent from a year before, but adjusted earnings stagnated at $237 million.
The short-seller's allegations center on a Samsonite growth strategy that has mostly been applauded by investors and sell-side analysts in recent years. The luggage maker's acquisitions, which include rival Tumi Holdings Inc. and online retailer eBags Inc., helped boost Samsonite's net sales to a record in 2017 and lifted the stock to a 16 percent gain in the 12 months before Thursday's slump.
Samsonite investors need a "convincing explanation regarding the allegations to rebuild confidence," Ronald Wan, chief executive officer of Partners Capital International Ltd., said on Thursday before the release of Samsonite's statement.