Iran Said to Want Oil, Bank Pledges by June After U.S. Deal Exit
(Bloomberg) -- Europe needs to come up with a package of economic guarantees by June to prevent the crisis triggered by Donald Trump's nuclear deal withdrawal from escalating further, according to a top Iranian official.
Iran expects oil exports to remain at current levels, continued access to international finance and the completion of contracts signed with European companies, according to the person, who asked not to be named in line with diplomatic protocol. The official spoke Friday in Vienna ahead of talks with Chinese, French, German, Russian and U.K. diplomats about the fate of the Joint Comprehensive Plan of Action, as the 2015 accord is formally known.
President Donald Trump's May 8 order to exit the JCPOA, and reimpose U.S. sanctions, has cast doubt over whether the deal can survive, even as International Atomic Energy Agency inspectors continue to verify Iran is sticking to its part of the bargain. Friday's meeting in the Austrian capital is the first step in the dispute resolution mechanism proscribed by the JCPOA that may lead to a meeting of foreign ministers in June.
The finance ministers from France, Germany and the U.K. are also scheduled to talk about Iranian measures on the sidelines of a European Union meeting in Brussels, according to participants. The EU pledged May 18 it would find ways to maintain the sanctions relief promised to Iran under the JCPOA.
While Iran is willing to allow Europe time to fill the vacuum left by the U.S., the official said his country is skeptical that the 28-nation bloc can exert its independence from Washington. French President Emmanuel Macron and German Chancellor Angela Merkel should have focused on building alternatives to the accord without the U.S. rather than appeasing Trump with potential compromises, the official said. Both leaders visited the White House in the days before Trump announced his decision in attempts to sway him.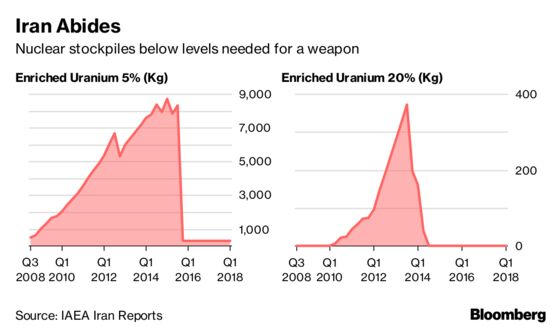 Iran has continued meet its obligations and IAEA inspectors had access "to all the sites and locations in Iran which it needed to visit," monitors said Thursday for an 11th consecutive time in the agency's regular report to member states.
The worst-case scenario in the event of the deal collapsing could see Iran leave the nuclear Non-Proliferation Treaty, potentially casting the Middle East into a new crisis, said the official, who dismissed any possibility of new negotiations unless the JCPOA is saved. Conservative hardliners in Tehran, who all along said Iranian President Hassan Rouhani was naïve to trust the U.S., have been emboldened by Trump's move.
Friday's meeting chaired by the EU in Palais Coburg -- the same Austrian landmark where the JCPOA was sealed in July 2015 -- isn't expected to yield concrete decisions. It will instead kick off intensive rounds of "shuttle diplomacy" in the weeks before U.S. sanctions resume, according to Ellie Geranmayeh, a senior fellow at the European Council on Foreign Relations.
         U.S. Sanctions Return in Two Stages
| | |
| --- | --- |
| August 6 | November 4 |
| Iran restrictions on dollar purchases | Sanctions on oil-related transactions |
| Sanctions on gold, precious metal trades | Sanctions on transactions with Iran Central Bank |
| Sanctions on supply of graphite, aluminum and industrial software | Sanctions on supply of specialized financial messaging software |
| Sanctions  on automotive sector | Sanctions on underwriting  and insurance services |
| Sanctions on purchase, facilitation of Iranian debt | Sanctions on energy sector |
Proposals to allow European finance to bypass American sanctions have been met with skepticism by EU states, which are also trying to negotiate trade disputes with the Trump administration that could threaten U.S. exports worth more than $435 billion. By comparison, Iran is the bloc's 66th biggest trading partner with less than $24 billion of goods exchanging hands, according to data compiled by Bloomberg.
A critical tool the EU may be able to influence is the Brussels-based Society for Worldwide Interbank Financial Telecommunication, or SWIFT messaging service, used by banks to verify international transactions. Isolating Iranian banks from SWIFT in 2012 was key in the run-up to the nuclear negotiations that yielded the deal.
"There's going to be a lot of discussions about SWIFT," Geranmayeh said. "SWIFT is critical."
Iran believes it's within the EU's power to ensure SWIFT remains accessible to Iranian banks since it's domiciled in Brussels and majority-owned by European institutions, according to the official.