Lira Plunges as Japanese Investor Exodus Adds to Turkey's Woes
(Bloomberg) -- Add skittish Japanese investors to the list of woes for Turkish assets, as what was once a favored emerging market becomes more like a no-go zone.
With Turkey's lira breaking below the 24-yen level on Tuesday for the first time, Japanese margin traders cut their losses, said Takuya Kanda, general manager at Gaitame.Com Research Institute Ltd. in Tokyo. The move accelerated Wednesday, sending the lira tumbling in excess of 3 percent against the dollar and pulling down other emerging currencies, including South Africa's rand and the Indonesian rupiah.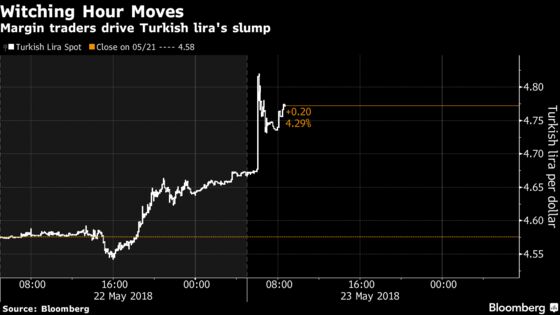 Individual investors in Japan have long had the reputation of making bold, contrarian calls amid near-zero rates at home -- such as diving into Turkish bonds yielding more than 14 percent, setting aside concerns about double-digit inflation and expanding current-account and budget deficits.
"Higher yields are often more important to Japanese retail investors than the actual details of economic fundamentals, thought it's not like they completely ignore them," Koji Fukaya, chief executive officer of FPG Securities Co. in Tokyo, said in a phone interview. "The popularity of high yielders is likely to remain intact among Japanese retail investors given they hardly get any yield at home. Once the dust settles with Turkey, they may even get back in to the lira."
But signs that the Japanese are capitulating are starting to surface in the wake of President Recep Tayyip Erdogan's comments last week that he intends to take more responsibility for Turkey's monetary policy if he wins an election next month. He has long called for lower interest rates -- a move that could exacerbate inflation and the lira's slump.
Read more: What Japanese retail investors were doing in recent weeks.
Japanese margin traders until recently were doubling down on their Turkish bets. They held 323,537 net long positions on the lira against the yen as of May 15, according to data from the Tokyo Financial Exchange. That was up from 266,955 contracts at the end of December.
It's not been a winning bet. The lira is down 22 percent against the yen so far this year, even worse than its 20 percent tumble versus the dollar. That makes the currency the worst performing of 2018, after only Argentina's, among 24 emerging markets tracked by Bloomberg.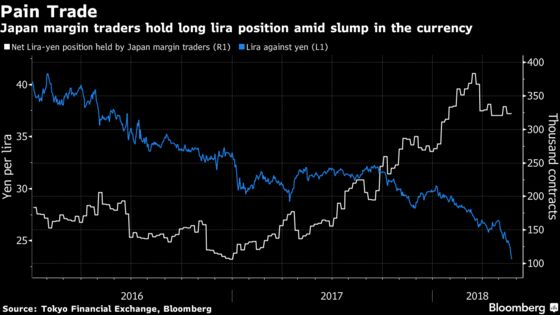 The lira's move during so-called witching hour of the Asian morning, when liquidity is typically thin, resembled the slump in the rand on Jan. 11, 2016, that saw that currency drop as much as 9.3 percent against the yen. Margin traders sometimes exacerbate exchange-rate swings through a forced liquidation of positions under loss-cutting rules, Bank of Japan researchers wrote in an August 2016 research paper.
The lira was at 4.7548 per dollar as of 1:42 p.m. in Tokyo, down 1.8 percent from Tuesday, according to data compiled by Bloomberg. It was at 23.2364 against the yen after hitting a record low of 22.9577.
The rand was down 0.3 percent against the dollar, while the rupiah and Mexico's peso dropped 0.4 percent and 0.3 percent, respectively. Wednesday's moves mark the latest bout of pressure on emerging currencies triggered by rising U.S. bond yields that are lifting the greenback.
Emerging-market stress may be just beginning -- read more here.
"Markets are picking the winners and losers in terms of the U.S. dollar exposure of which Turkey is one of the vulnerable economies," said Andy Ji, a currency strategist in Singapore at Commonwealth Bank of Australia.