Lira Drops as Turkey's Emergency Rate Hike Seen as Temporary Fix
(Bloomberg) -- The relief brought by Turkey's decision to boost interest rates at Wednesday's emergency meeting didn't last long, as the lira resumed its nosedive against the dollar.
The currency declined as much as 4.4 percent on Thursday, the most in emerging markets, amid concern the unscheduled rate increase will provide only temporary support. It had reversed losses of as much as 5.2 percent Wednesday after the central bank raised its late liquidity window rate by 300 basis points.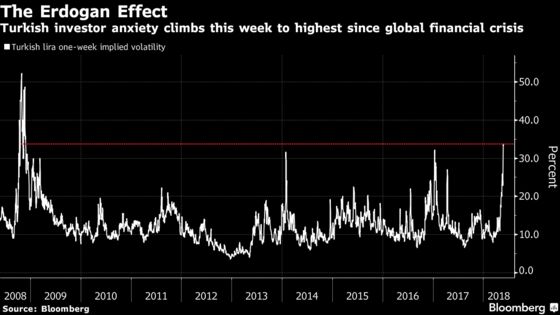 "Is lira weakness avoidable? Perhaps not so much, considering Turkey's high inflation and large external financing needs," said Emre Akcakmak, a Dubai-based portfolio adviser at East Capital International.
The central bank acted after three weeks of turbulence in the currency market, with the lira rallying 2 percent by the end of Wednesday. President Recep Tayyip Erdogan, who's seeking re-election in a June 24 vote, didn't specifically mention the rate increase in a televised speech Wednesday, but sought to reassure investors by pledging allegiance to global principles on monetary policy.
He's kicks off a campaign for re-election on Thursday, as polls suggest he may face a tougher challenge than in the past. Click here to watch his speech and read live commentary.
Much of the the currency's performance during the next few days now depends on the external environment, according to analysts. If the U.S. dollar loses steam and emerging-market currencies rebound from recent lows, the lira may follow suit. If not, it will probably remain among the weakest in developing nations, they say.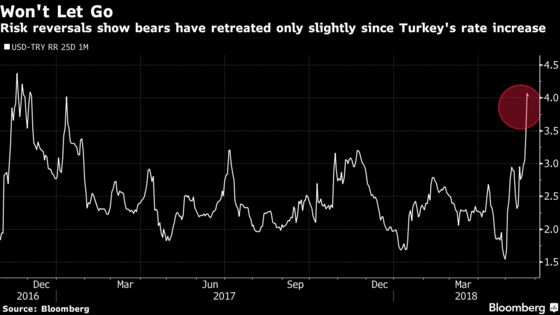 The rate increase "won't trigger a sustainable reversal in USD/TRY after confidence has been shattered over the past few weeks," said Piotr Matys, an emerging-market currency strategist at Rabobank in London. "More is required to restore confidence among investors and the central bank may have to tighten monetary policy further perhaps as soon as on June 7."
The currency declined 3.7 percent to 4.7519 per dollar as of 3:15 p.m. in Istanbul. While bears have retreated slightly, the premium of options to sell the currency over those to buy it over the next month-- known as the 25 Delta risk reversal -- is the highest in the world, data compiled by Bloomberg show.
The yield on Turkish 10-year debt was unchanged at 14.71 percent, after falling as much as 23 basis points. Foreigners were net sellers of $638 million worth of Turkish bonds last week, the most since 2016.
The benchmark Borsa Istanbul 100 Index rose 0.8 percent, led by Akbank and Turkiye Garanti Bankasi.
Here's what analysts and investors say:
Tatha Ghose, an analyst at Commerzbank
"It may suffice for the near term if global markets also turn supportive." Otherwise, it's only a brief pause
Interest rates may have to rise to 20% to control the rout
Ilker Domac and Gultekin Isiklar, analysts at Citigroup
The rate increase "bodes well for containing depreciation pressures in the near-term"
"Nonetheless, we believe that the credibility of the tightening and its impact on investor sentiment could have been bolstered by monetary policy simplification"
Subdued capital inflows and growing external imbalances will keep the central bank "on its toes and leave little room for policy slippages"
The redemption schedule for Uridashis and lira-denominated supranational bonds "may intensify over the next 60 days, which could pose a threat to the TRY recovery rally should investors decide not to roll their positions"
Kiran Kowshik, a strategist at UniCredit in London
The lira could rebound to about 4.4 per dollar
Erdogan is likely to be a bit more hawkish on the FX side in his pre-election speech tomorrow, which should support the lira
In medium term, rate hikes aren't likely to help the lira, given the still-widening current account deficit and apparently low sensitivity of inflows to interest rates
"Hence TRY will likely remain an underperformer further out"
Alejandro Cuadrado, global head of foreign exchange at BBVA
Rate hike should be enough to stem selloff, but more is needed to restore credibility
Tightening topped initial BBVA's expectation of 250 basis points
"More signals may be needed, otherwise the adjustment higher in USDTRY remains inevitable"
Forecasts a potential level of 4.4 in 2Q, as high volatility and possible corporate demand complicates the picture
Delphine Arrighi, a money manager at Old Mutual in London
Hike might be "just enough" to calm the market, but more needs to be done to reestablish credibility
Reduced short TRY position to market weight
Without economic policy turnaround, TRY may weaken more medium-term
Shamaila Khan, director of emerging-market debt at AllianceBernstein
Hike is a step in the right direction, but won't be enough to change market sentiment
"The positive impact will only last if the CB continues to pursue a hawkish policy; a one-off will not change sentiment except in the short term"
We have not seen policy response to address the imbalances
Erik Nelson, a currency strategist at Wells Fargo in New York
More commitment to deal with high inflation will be needed over the longer term
"Without more concrete and sustained signs of central bank commitment to bringing down inflation, the Turkish currency will likely remain under pressure going forward"
"We would maintain a bearish view on the currency over time unless there are more sustained actions"
Forecasts the TRY to end 2Q at 4.3, but says there are some upside risks to that estimate
Timothy Ash, a senior emerging-market sovereign strategist at BlueBay Asset Management
Turkey may need to raise rates again as policy makers are "far behind the curve"
Credibility of Turkey's central bank has been "shot to hell" over the past month, he says on Twitter
Win Thin, New York-based head of emerging-markets strategy at Brown Brothers Harriman
300 basis points is "a very weak response" to the depreciation in the lira
Any currency relief "is likely to be temporary if this is all that the bank is doing"
Central bank should have raised to at least 20%
Anders Faergemann, a London-based senior fund manager at PineBridge Investments
"I'm not convinced 300 bps are enough at this stage to stabilize the Turkish lira. A week ago, maybe, but as of today my sense is that the market has moved on and I would have preferred the Central Bank of Turkey to have surprised the market and regained some type of control with inflation expectations"
Cristian Maggio, head of emerging market strategy at TD Securities
"This is a relevant move for sure if they're serious about tightening and fixing the inflation problem. However, they must be ready to do more if needed"
Paul Greer, a London-based money manager at Fidelity International
Rate hike is enough to stabilize the lira in the short-term as some of the large short Turkey positioning will now quickly unwind, which will support the market
However, the Turkish central bank's credibility has been badly damaged during this episode of sharp lira depreciation
"If the Turkish authorities had wanted to get well ahead of the curve, reduce inflation expectations on a more sustainable basis and to drive down Turkey's long-dated debt funding costs over the longer term, they should have delivered an even larger hike than +300bp and also accompanied the hike with a simplification of its monetary policy tools"
Philip Wee, among other analysts at DBS Bank Ltd.:
It is too early to conclude that the worst is over for the Turkish lira even after the currency rebounded from a record low
There's concern about "effective policy making" under Erdogan
Erdogan's administration still needs to address the causes, not the symptoms, of the lira's rout