Tencent Tracing Familiar Pattern as Gains Fizzle in Afternoon
(Bloomberg) -- What's the stock that gains in the morning, pares at noon and drops at the close?
A pattern that's emerging in Asia's biggest listed company has taken on elements of the classic riddle. Tencent Holdings Ltd. advanced as much as 1.1 percent on Thursday, only to give back all of those gains throughout the session to trade 0.8 percent lower as of 2:42 p.m. in Hong Kong. That's been the state of play for the Chinese Internet giant's shares in the past four days as buyers seem to vanish in the afternoon.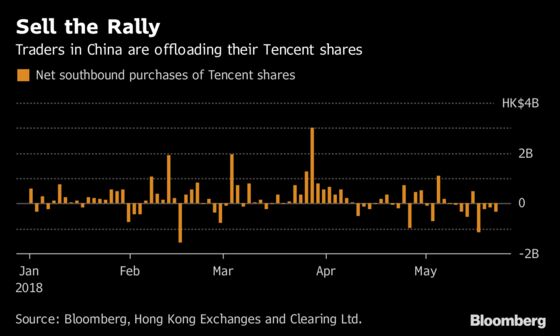 Tencent's record quarterly profit and better-than-expected margins proved to be a short-lived boost last week for the shares, which had lost almost $100 billion in value. Traders in China are losing interest, selling a net $43 million worth of the stock through trading links with Hong Kong on Wednesday, according to exchange data. That's the eighth day of net selling in the past nine sessions, bringing the total sold to more than $300 million since May 10.