Selling Euro Against Havens May Be Way to Play Europe Slump
(Bloomberg) -- As European economic data deteriorate and political risks intensify, Credit Suisse Group AG says the best way to wager against the euro is versus the Swiss franc and the yen.
The prospects of slowing growth delaying European Central Bank policy tightening and Italian political uncertainty infecting assets across the region suggest there are further downside risks for the common currency, according to Alvise Marino, a foreign-exchange strategist at the bank in New York. The euro tumbled as much as 0.9 percent versus the dollar Wednesday, and fell below 1.16 francs for the first time since March.
"The weak May PMI data for the euro area dashed any hopes of a rebound in European growth momentum," Marino wrote in a note to clients. "The weak European data in particular complicates the fiscal equation for the periphery at a time when political risk is on the rise. We see a risk this could translate in more widespread negative impact on European assets."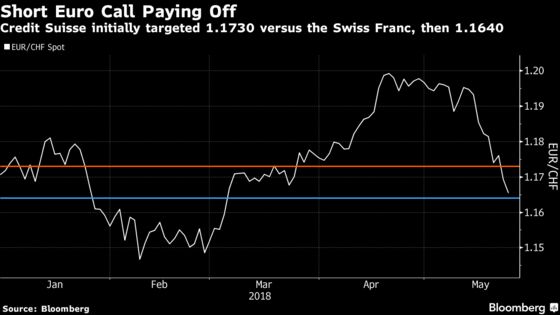 Credit Suisse suggested clients sell the euro versus the franc last week, and the pair has already dropped below initial targets at 1.1730 and 1.1640. The bank kept the trade in place Wednesday and put in a new stop at 1.1760. Marino didn't have a new target when contacted by phone, noting that his trade calls are tactical, spanning under three months. The cross traded at 1.1622 as of 6:49 a.m. in London on Thursday.
A composite euro-area Purchasing Managers' Index fell to an 18-month low Wednesday as new order growth weakened, hiring and backlogs of work showed slower rates of increase and companies became less optimistic about the economic outlook. In a political development that may be undermining the euro, Italy's newly formed populist government is seeking to ramp up spending on the poor and slash taxes in a direct challenge to the European Union establishment, fueling a slump in the nation's bonds.
If former industry minister and euro-skeptic Paolo Savona is nominated as finance minister, "we see scope for Italian political risk to start having a wider impact on European assets, especially since the prospect of a growth slowdown implied by the weak PMI further complicates the fiscal equation," Marino wrote.
The company also suggested investors sell the euro versus the yen as the pair slumps to a fresh year-to-date low. Marino recommends targeting a move to 125.82 yen, with a stop at 130.50. The pair was at 128.07 on Thursday.