Maduro's Foes Low on Options After Election, Argentina Says
(Bloomberg) -- Latin American nations have few options left to constrain Venezuelan President Nicolas Maduro after he was re-elected Sunday in a vote widely considered fraudulent, Argentina's Foreign Minister Jorge Faurie said.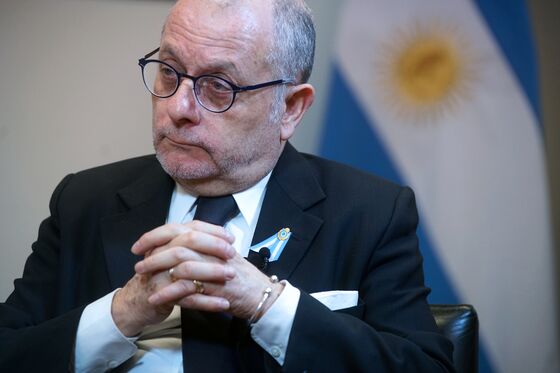 Financial sanctions by the so-called Lima Group would be of little use given the nations' limited economic ties with Venezuela, Faurie said in an interview Tuesday in Buenos Aires. Faurie would neither back nor denounce a potential ban by the U.S. on Venezuelan oil exports, which President Donald Trump is currently considering. The Group of Lima refused to recognize Sunday's vote, after months of urging Maduro to delay elections.
"We can impose maximum pressure on a dictatorship if you have the means to do so," Faurie, 66, said. Latin American nations don't have "the means to impose that kind of sanction to Venezuela."
The oil ban "is something that the government of the United States has to decide by themselves," he said.
Venezuela is running out of friends. The U.S. and European Union have ratcheted up sanctions against the top members of Maduro's government in order to break his stranglehold on the country with the world's largest oil reserves. Venezuela is in a full-blown economic crisis as it spirals into a fifth year of recession amid skyrocketing inflation that's expected to reach 13,000 percent this year, according to the IMF.
U.S. sanctions aim to target corrupt regime officials and not the Venezuelan people, who are enduring food and medical shortage. Still, it hasn't ruled out an oil ban, which would cut off Maduro's last source of foreign revenue and potentially worsen the humanitarian crisis.
Venezuela kicked out the top two American diplomats on Tuesday after the U.S. prohibited purchases of debts owed to the government, including to the crucial state-run oil company Petroleos de Venezuela SA.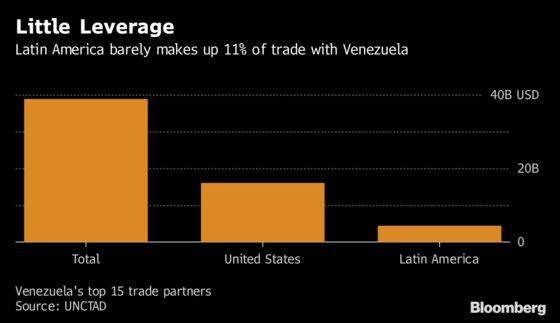 Faurie, a career diplomat who was previously ambassador to France, hosted the annual meeting of foreign ministers from the Group of 20 nations in Buenos Aires on Monday. He led meetings with the U.K.'s Boris Johnson, Japan's Taro Kono and Germany's Heiko Maas.
This G20 meeting came on the heels of Argentina returning to the IMF for the first time since its 2001 debt default to seek a financing agreement following a slump in the peso. Many analysts believe the IMF will tell Argentine officials to cut the fiscal deficit at a faster pace.
Faurie said Argentina should prioritize its infrastructure spending and hold back on increasing salaries for public employees, who often protest in Buenos Aires. On Tuesday, the city's subway shut down while train workers went on strike.
"I think we will tend to give the restraint in spending in what we call normal expenditures for sustaining salaries or sustaining other expenditures, which are not investment," Faurie said. "We should try to privilege those that are investment that will give work to our nationals."