A $118 Billion Japan Manager Buys Spain Bonds After 7 Years
(Bloomberg) -- Mitsubishi UFJ Kokusai Asset Management's flagship fund is returning to Spain's sovereign bonds after an almost seven-year hiatus, lured by improving prospects for the economy.
The Global Sovereign Open fund has been buying Spanish debt since March, the month S&P Global Ratings lifted the nation's sovereign rating. The notes already made up almost 10 percent of the fund's holdings as of end-April, more than any other European country, according to Tatsuya Higuchi, executive chief fund manager at Mitsubishi UFJ, which oversees the equivalent of $118 billion.
"It appears most likely that the Spanish economy will outpace other economies in the euro zone over the longer term," Higuchi, who manages the fund that has $4.5 billion in assets, said in an interview in Tokyo. "The country's fiscal condition has improved and with the upgrade in the rating, we've decided to restart our investment."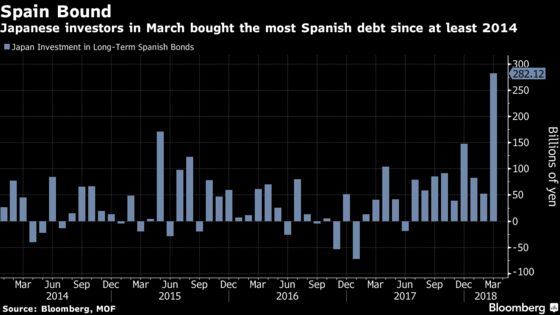 The return of one of Japan's biggest bond funds to Spain underlines how global investors are looking past the failed Catalan independence push last October to focus on a string of credit upgrades. Amundi SA, Europe's largest money manager, and BNY Mellon Asset Management have also been drawn to Spanish debt as the economic recovery extends into a fifth year.
A financial crisis and real-estate crash had caused Spain's government to take billions of euros in bailout funds from Europe to fix its banking system in 2012. Mitsubishi UFJ's Global Sovereign Open fund sold all its Spanish and Italian bond holdings in November 2011.
Japanese investors' purchases of all Spanish bonds -- not just sovereign securities - totaled 282.1 billion yen for March, the highest in Bloomberg-compiled Ministry of Finance data going back to 2014.
At 10 percent of the total portfolio, the weighting of Spanish bonds in the Japanese fund's holdings was double the 5 percent in the benchmark FTSE World Government Bond Index as of April.
That said, the political uncertainty in Italy -- that has caused the nation's bond yields to surge this month -- is being viewed by some investors as a risk for its peripheral peers in Spain and Portugal, and even European assets in general.
"Political concerns in Italy could spread and affect other countries in the region," said Tsuyoshi Ueno, a senior economist at NLI Research Institute in Tokyo. "But I'm not expecting this to spill over like the crisis in Greece."
Spain's benchmark 10-year debt yields 1.44 percent, having climbed from 1.16 percent at the end of March amid a global rout, but still below the 1.81 percent level seen in October.
Here are some more comments from Higuchi on the fund's investment strategy:
Mitsubishi UFJ has slashed its holdings of U.S. sovereign bonds over the past year and added to debt of euro zone countries, according to Higuchi; cites improvement in the political situation in Europe since the French election in May 2017 as one of the reasons for the shift

READ: Japan funds sell U.S. bonds for sixth month, buy French debt

Says further drop in the Global Sovereign Open fund's holdings of U.S. debt unlikely; strong U.S. economic fundamentals are expected to provide the dollar more room to advance, even as the growth momentum in Europe may be slowing slightly

NOTE: Fund's exposure to U.S. bonds fell to 36% as of April, from 43% about a year earlier. Ratio of euro zone notes rose to 32% from 26% over the same period
"We've been reducing Treasury positions steadily but the amount has stabilized since February. There isn't much reason to cut our positions further at present"

Fund is underweight local government bonds as it expects the Bank of Japan to remain committed to its ultra-loose monetary policy "for a while"

NOTE: Japanese debt made up about 8% of fund in April, versus about 20% for the benchmark
"We could raise our exposure in Japanese bonds relatively easily when yields climb," Higuchi says, adding that the fund mainly holds 20-year debt as that segment is the "most appealing"