Scrutiny on `Insolvent' 1MDB Grows as Malaysian Team Meets FBI
(Bloomberg) -- Scrutiny of Malaysia's 1MDB intensified as the government said the state investment fund is "insolvent" and unable to repay debts, which the company previously said totaled more than $7 billion.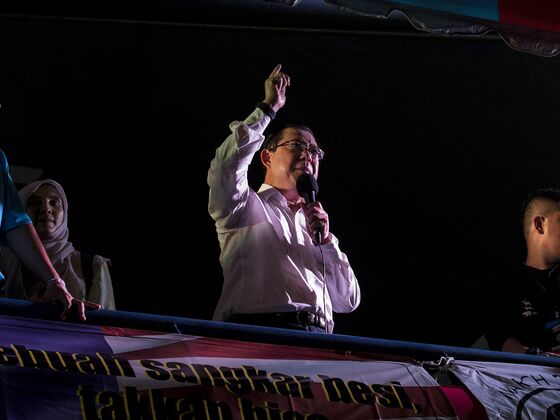 The government will honor 1MDB's obligations as it had done in recent years, Finance Minister Lim Guan Eng said on Thursday. Separately, a Malaysian task force investigating the fund met with officials from the U.S. Federal Bureau of Investigation and the Department of Justice to discuss the focus and direction of probes.
Malaysia, under newly elected Prime Minister Mahathir Mohamad, is trying to uncover the extent of alleged embezzlement or money laundering at 1MDB, set up by former premier Najib Razak in 2009 to attract foreign investment. There are global criminal and regulatory probes as investigators try to decipher how money may have flowed out through a complex web of opaque transactions and fraudulent shell companies -- to finance what the U.S. said were spending sprees by corrupt officials and their associates.
"We will continue to search for assets but whether or not they can be recovered, that is another matter," Lim said. Malaysians are angry because their money was used "to pay off debts of one of the largest scandals in history," he said.
1MDB's directors had disputed the value and existence of $2.5 billion purported investments held overseas and the company's management failed to supply proof of such holdings over the past two years, according to a finance ministry statement on Wednesday. A former 1MDB chief financial officer told the government in March the company wouldn't be able to service interest payments due in April and May, Lim said in the statement.
"I have instructed that the Ministry of Finance take steps to appoint PwC to conduct a special position audit and review of 1MDB so that Malaysians would know the true financial state of affairs in 1MDB," Lim said Wednesday. "We would then be able to determine the cost of the shenanigans to the taxpayers."
Lim's statement on Wednesday -- which included strongly worded criticism of 1MDB President Arul Kanda in a manner unusual in official government communications -- shows how 1MDB is dominating the agenda of the newly-installed government, after it campaigned on alleged wrongdoing at the fund in the May election.
Najib appeared at the anti-graft agency on Thursday for additional questioning related to 1MDB. He was first summoned on Tuesday and spent about four hours giving his statement and verifying documents related to a former 1MDB entity.
Lim rebuked Kanda, who he said had been "preaching the financial viability of 1MDB and the soundness of its investments" before the polls, and instructed the finance ministry's legal advisers to review his position in 1MDB. Kanda said Thursday he's seeking legal advice on potential defamation by Lim.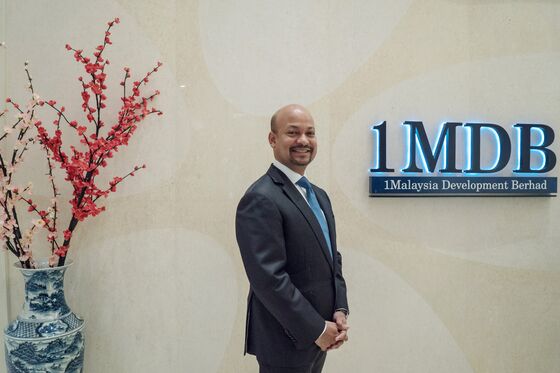 Kanda had previously said there is 31 billion ringgit ($7.8 billion) of mostly long-term debt outstanding, down from a peak of 50 billion ringgit, while data compiled by Bloomberg shows more than 26 billion ringgit of bonds and interest payments are due by 2023. The Bloomberg data doesn't include a $1.75 billion bond that was privately placed.
1MDB's dollar bonds due 2023 dropped about 4 cents to 87.8 cents on the dollar on Thursday, , the biggest decline in two weeks, according to Bloomberg-compiled prices.
In April 2016, a Malaysian parliamentary committee identified at least $4.2 billion in irregular transactions in 1MDB. The U.S. alleges a small coterie of Malaysians may have diverted more than $4.5 billion from the fund into personal accounts disguised to look like legitimate businesses, and kicked back some of those funds to officials. Singapore has punished banks over lapses related to 1MDB, seized hundreds of millions of dollars of assets and jailed bankers over the scandal.
The company has consistently denied any wrongdoing and repeatedly said all its funds are fully accounted for.
Abu Dhabi's International Petroleum Investment Co. guaranteed two separate dollar-denominated bonds for 1MDB in 2012 in deals arranged by Goldman Sachs Group Inc. that raised $3.5 billion. The bonds due in 2022 were the subject of a dispute in recent years on who's liable to make interest payments on the debt. The ownership on one of the issues isn't known because it was a private placement, while data compiled by Bloomberg shows there is no single investor that holds more than 5.1 percent of the bonds on the other set.
In a settlement agreement with IPIC last year, 1MDB assumed the coupon and principal obligations for the bonds, and the company said it would meet the payments by cashing out on investment fund units that it owned. Those are the same investments that 1MDB director Kamal Mohd Ali called "a scam," according to the finance ministry statement.
Lim has asked Kanda to clarify whether 1MDB is able to make 143.75 million ringgit of interest payments due May 30. He said the ministry has made 6.98 billion ringgit of payments for 1MDB to date, including 5.05 billion ringgit that was part of the IPIC settlement.
Some of the funds used to repay 1MDB's debt were raised by the previous administration from transactions with the central bank and sovereign wealth fund Khazanah Nasional Bhd., Lim said Thursday.
The revelations come after the finance minister said on Tuesday that Malaysia's government debt has been inflated by 1MDB's borrowing and exceeds 1 trillion ringgit. That was higher than previously disclosed by Najib's administration as it was masked by the way the accounts were reported, he said.