Cryptos Hide Risk for Chipmakers, Top Tech Fund Manager Warns
(Bloomberg) -- The risk from a cryptocurrency selloff isn't limited to just the virtual money.
It also poses a danger to companies delivering the technology for mining them, according to a top performing tech stock fund.
"Companies within hardware exposed to cryptocurrencies are too high priced," Anders Tandberg-Johansen, portfolio manager at DNB ASA, said in an interview on Monday. "It's an area where there is high risk. If cryptocurrencies don't recover, these companies will have problems with capacity utility."
Cryptocurrencies, such as Bitcoin and Ethereum, have increased demand for hardware in recent years. But as the value of cryptos have plunged this year, appetite for mining equipment is likely to take a hit. Bitcoin has fallen 59 percent since a high in December.
That has spurred Tandberg-Johansen's team, who oversee about 33 billion kroner ($4.1 billion), to short Advanced Micro Devices, Inc. in their DNB TMT Absolute Return hedge fund.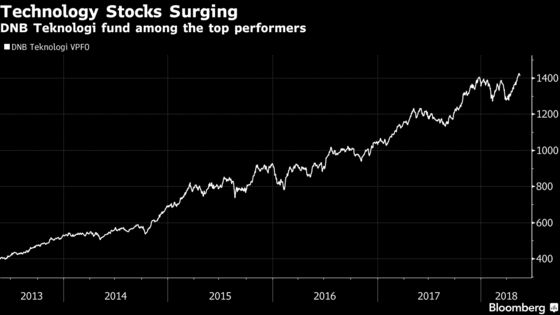 Their DNB Teknologi fund makes contrarian bets on out of favor stocks and is one of the top performing tech funds with a 20 percent average annual return over the past 10 years, according to data compiled by Bloomberg. It has recently built a big stake in Lenovo Group Ltd., which it sees being supported by a focus on profitability.
"It's very unpopular," Tandberg-Johansen said. "It's a company that has potential to more than double relative to the market. And the PC market has consolidated so the profitability there will keep up."
Big tech stocks have recovered after a bumpy start to the year, but the sector as a whole isn't overvalued, according to portfolio manager Sverre Bergland.
"The tech sector isn't that much more expensive than the market," Bergland said. "But it grows much faster. Our notion is that tech will grow faster than the economy medium term."
Google-parent Alphabet Inc. and Facebook, Inc. are among the fund's biggest holdings. Bergland sees about 20 percent growth for Google and 35 to 40 percent growth for Facebook this year.
"Medium and long term it looks very bright for these companies," he said. "The regulation fear is a bit exaggerated. Today these stocks are punished too hard on the multiple."