Battered U.K. Retail Stocks a Hunting Ground for Value Investors
(Bloomberg) -- As British shoppers continue to tighten their purse strings and shop online, investors are placing bets on which retailers will survive.
Dunelm Group Plc, Dixons Carphone Plc, Marks & Spencer Group Plc and Kingfisher Plc are among retailers that have underperformed the FTSE 350 Index in the past two years. That's provided an opportunity for stock pickers, with U.K. general retail shares trading near the cheapest on record against global peers, according to data compiled by Bloomberg.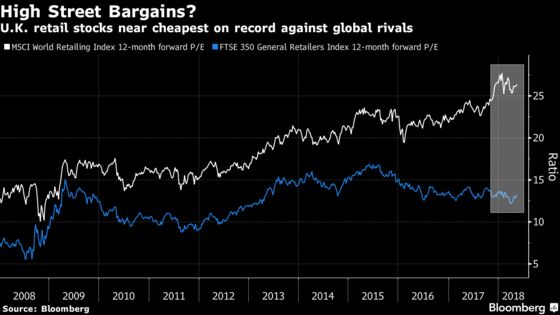 "A lot of these types of stocks have effectively been bunched together in valuation terms," Ed Meier, a fund manager at Old Mutual Global Investors, said in an interview. "In three years' time, is it more likely that they will be a winner?"
Meier's 188 million-pound ($253 million) U.K. Equity Income Fund looks for stocks where the market may not be pricing in the dividend or potential growth in the dividend. In the case of retailers, London-based Meier sees flexibility as key to tackling challenges from discounters and the encroachment of Amazon.com Inc.
A bet on Next Plc has rewarded Meier handsomely so far. He started buying the shares in March 2017, at less than 40 pounds, attracted by the retailer's strong online presence. Since then, the company has distributed a series of special dividends and the shares have risen more than 40 percent. Next flagged its intention to make the payments in January 2017, with the plan subject to market conditions.
Now Meier is waiting for his investment in Dunelm to bear fruit. The stock tumbled in February after the U.K. home-furnishings retailer said operating costs will slightly outpace gains in sales this year, partly because of weakness in the legacy Worldstores businesses. Dunelm bought Worldstores in November 2016 to help boost its online presence, though the integration process has been taking longer than some analysts expected.
Meier first bought Dunelm shares around the same time as his Next investment in March 2017, because he felt that the company was addressing its challenges. A series of management shake-ups since hasn't deterred him. "It's had its own little wrinkles there, but we think the core business is still robust," he said.
Meier isn't the only one who thinks there is potential for some British retailers to recover. The U.K. market has become fertile ground for stock pickers, given low valuations, Morgan Stanley analysts including Krupa Patel wrote in a May 13 note, citing Kingfisher and Marks & Spencer among attractive shares. Kingfisher remains the most attractive large-cap general retailer from a value investor's perspective, Stifel analyst Scott Ransley said in a May 18 note.