Wall Street Baffled Why Activist Sarissa Went Silent on Ironwood
(Bloomberg) -- Ironwood Pharmaceuticals Inc. activist investor Alex Denner helped send shares higher by almost a third since announcing his intention last month to join the board. But it's been crickets lately, with hardly a peep from his hedge fund.
The drugmaker is less than two weeks from its highly anticipated annual meeting and Sarissa Capital Management has yet to file a final proxy soliciting shareholder votes for Denner's nomination. The fund holds a 2.4 percent stake in the Cambridge, Massachusetts-based company.
"My sense of it is: A lot is going on behind the scenes," Berenberg's Patrick Trucchio said, adding that the delay "seems odd." The agency representing Sarissa, D.F. King & Co., expects a definitive proxy to be filed, writes Trucchio, who has a buy rating on the stock and a Street-high price target.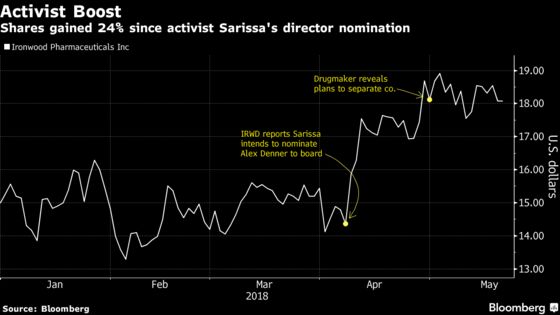 Sarissa did not return calls seeking comment and Ironwood declined to comment. As the May 31 annual meeting looms, Ironwood is urging shareholders to vote for existing directors Lawrence Olanoff, Amy Schulman and Douglas Williams. Denner wouldn't add any expertise, the pharmaceutical company argues.
Proxy adviser Glass Lewis urges holders to vote for the company's nominees, noting that "Sarissa has not publicly disclosed how it intends to proceed with respect to the 2018 annual meeting." ISS reserved judgement on Denner due to the absence of a proxy filing, and recommends two of the three company nominees.
The fund's involvement is widely perceived to have prodded the company to consider spinning off its R&D arm, notes Credit Suisse analyst Vamil Divan. "It's a little bit unusual that we're getting close to the date and we haven't heard more from him," Divan said. But "I don't downplay his intentions."