U.S.-China Trade War Truce Puts a Halt to Steel Firms' Rally
(Bloomberg) -- The Trump administration's 180-degree shift on trade with China triggered a similar turnaround in U.S. steel stocks.
The SPDR S&P Metals and Mining exchange-traded fund fell 0.6 percent after Treasury Secretary Steven Mnuchin said on Sunday that the U.S. was putting the trade dispute with China on hold. Steel producers United States Steel Corp. and AK Steel Holding Corp. each retreated at least 3.8 percent. Nucor Corp. dipped 0.6 percent, while the NYSE Arca Steel Index slid 0.7 percent.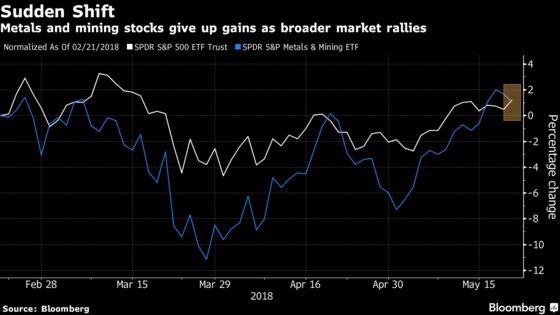 The metals and mining fund had rallied as much as 15 percent since late March as investors bet the industry would benefit from President Donald Trump's hard-line position on trade. Meanwhile, China's crude steel production, which makes up half of the world's supply, rose to a record in April.
"There's a lot of money in steel stocks on the back of the idea that the industry will have strong protectionism," Gordon Johnson, a New York-based analyst at the Vertical Group, said by phone. "If there's any sign of that protectionism waning, you're going to have pressure on the stocks, which is what's driving the weakness today."
While the trade war truce sapped U.S. steel producers, it was a blessing for agriculture stocks. The S&P 500 Agricultural & Farm Machinery Index rose 2 percent after Trump tweeted that China has agreed to buy "massive" amounts of additional farm and agriculture products. Deere & Co., which gets about 39 percent of its revenue abroad, jumped 2 percent, while AGCO Corp. gained 1.3 percent.