Currencies Trade Near 50-Week Average as Lira Slumps: Inside EM
(Bloomberg) -- Emerging-market currencies extended their longest slide since October, approaching a key technical level that may be seen as a harbinger for more losses. The lira sank to a record low on speculation Turkey's monetary policy is too loose to guard against double-digit inflation. Brazil's real climbed after the central bank increased its intervention.
Currencies in developing nations dropped a sixth day as U.S. Treasury yields stayed above 3 percent -- underscoring how traders are reassessing the potential impact of higher rates in the world's largest economy. The MSCI Emerging Markets Currency Index approached its 50-week moving average for the first time since December 2016. Dropping below that level for an extended period could be a sign of further declines, according to some analysts. The last time it happened, in September 2014, the index slid 8 percent in three months.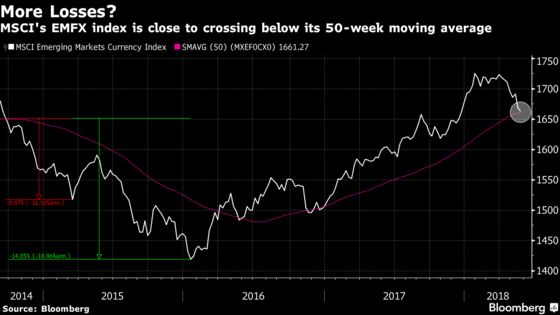 "One of the biggest challenges to deal with is that higher U.S. Treasury yields and a stronger dollar are likely to be bad for emerging markets," a team of Citigroup Inc. strategists led by Mark Schofield in London, wrote in a research note. "With tighter financial conditions in the U.S. and potential outflows from emerging markets, two of the main drivers of global growth could come under pressure."
Highlights:
MSCI EM Currency Index dropped to the lowest since December
MSCI Emerging Markets Index retreated for a third day
CBOE EM ETF Volatility Index declined 3.8 percent
Risk premium on EM sovereigns +2bp to 333bps: JPMorgan indexes 
Due to higher debt levels, a greater portion of which is denominated in foreign currency, many emerging markets are now more exposed to dollar appreciation than in 2009, the Institute of International Finance said last week.
Emerging markets are "very exposed" to external risks, Bob Michele, JPMorgan Asset Management's global chief investment officer, said on Bloomberg TV.
"These economies have levered up and it's not clear they can absorb higher funding rates going forward," he said. "Everything's been thrown in reverse. You won't see more QE. You won't see more rate cuts. In fact, you'll see the opposite."
BRAZIL:

Ibovespa dipped 1.5 percent to 81,815.31
Real rose 1.5 percent to 3.68 per dollar
10-year local-bond yield slid four basis points to 10.61 percent
"The BCB is using the swaps to curb the volatility rather then to set a level," said Joao Souza Fernandes, an economist at Quantitas Gestao de Recursos
Global trend of a strengthening dollar is unlikely to to be reversed in short term
BCB, Treasury Can Act Jointly to Prevent FX Volatility: Guardia
Brazil Halts Sale of Local Bonds to Individuals for 3rd Day

MEXICO:

Mexbol index dipped 0.8 percent to 45,305.02
Peso gained 0.6 percent to 19.8248 per dollar
10-year local-bond yield fell three basis points to 7.78 percent
With about two weeks left until what may be the final deadline for a new Nafta this year, Mexico and Canada are signaling there's a deal to be had -- if President Donald Trump wants one
The U.S. is focused on getting a Nafta deal, but President Donald Trump could also consider what's called a "skinny deal," or an agreement that wouldn't require congressional approval, Treasury Secretary Steven Mnuchin said on CNBC

ARGENTINA:

Merval Index dipped 0.6 percent to 31,690.12
Peso gained 0.2 percent to 24.39 per dollar
Treasury Minister Nicolas Dujovne will lead coordination of Argentina's economic policy, according to his press office
Argentina Starts Exchange For Dollar Bonds Dated 2019-2046
SocGen Turns Bullish on EM Eurobonds, Adds Argentina Exposure
Shut Up, Investors Told, as Argentina Unleashes Crisis Crackdown

Click for market news on ANDES
TURKEY:

Borsa Istanbul 100 Index dipped 0.1 percent to 102,257.65
Lira declined 1.9 percent to 4.5788 per dollar
10-year local-bond yield gained 204 basis points to 14.58 percent
Lira Passes Pain Threshold as Strategists See No End to Selloff
"God help Turkey," Istanbul-based broker Alnus Yatirim said in the sign-off to its morning note to clients on Monday. "We're faced with a central bank that is watching the market when it needs to lead and direct it"
Volatility's So High It May Spur Dead-Cat Bounce in Turkish Lira

RUSSIA:

MOEX Russia Index rose 0.2 percent to 2,332.63
Ruble rose 1 percent to 61.6625 per dollar
10-year local-bond yield declined one basis point to 7.37 percent
The U.K. should seek European Union action to bar Russian sovereign debt from clearing houses and work with allies to stop companies whose owners have links to President Vladimir Putin from listing on global stock markets, according to a committee of lawmakers in London
'Tested by Fire,' Default Veterans Kept in Charge by Putin
Bank of Russia Sees Arguments in Favor of Cutting, Holding Rates
Russian Inflation Will Gradually Return to Target of 4%: Yudaeva

SOUTH AFRICA:

FTSE/JSE Africa All Share Index little changed at 57,821.20
Rand gained 0.8 percent to 12.6683 per dollar
9-year local-bond yield gained four basis points to 8.663 percent
Bearish signs are stacking up for the rand. Volatility is rising and with it the cost of protecting against a weakening currency, short positioning is soaring and foreigners are fleeing South African bonds at a rate last seen 18 years ago
Rand Could Weaken to 15.80/USD in a Down-Case Scenario: Investec
Government should test current laws on land because it may not be necessary to change the constitution to ensure expropriation without payment: ANC

Click for market news on POLAND and HUNGARY
CHINA:

Shanghai Composite Index increased 0.6 percent to 3,213.84
Offshore yuan gained 0.1 percent to 6.3572 per dollar
10-year local-bond yield fell one basis point to 3.71 percent
The U.S. and China declared a truce in their trade dispute over the weekend, but that will prove temporary if the world's two largest economies fail to deliver on their vague commitments to re-balance trade
Kudlow Sees China Financial Sector Opening 'A Lot More' in Talks
Wall Street Likes Less-Hostile U.S. When It Comes to China Trade
Default Jitters in China's Bond Market Are Crimping Note Sales

INDIA:

Sensex Index dipped 0.7 percent to 34,616.13
Rupee declined 0.2 percent to 68.124 per dollar
10-year local-bond yield gained three basis points to 7.8087 percent
Sovereign Indian bonds rose for a third day on speculation the central bank may add to its debt purchases from the open market
Modi's Party Fails to Form Government in India's Karnataka
"Developments in Karnataka may adversely impact the rupee as they add to the political risk premia in a pre-election year," says Anindya Banerjee, a foreign-exchange analyst at Kotak Securities in Mumbai

Click for more on markets in ASIA