Get Ready for Annual U.S.-China Trade Wars, Credit Suisse Says
(Bloomberg) -- Same time next year? Anyone breathing a sigh of relief on Monday may have to get used to featuring China-U.S. trade wars in their economic models.
While stocks in Hong Kong and U.S. equity futures jumped after the world's two largest economies agreed to put trade tariffs on hold, analysts at Credit Suisse Group AG say the tit-for-tat confrontations will probably become a regular fixture for investors. They see a cycle of disputes and negotiations becoming an annual ritual that harks back to the 1990s, before China became a member of the World Trade Organization.
In a joint statement, the two sides said they aim to "substantially" reduce the U.S. trade deficit in goods with China, which reached $376 billion last year. Beijing promised to increase purchases of U.S. energy and agricultural products, though specific details were few and far between.
"Any expectation of a fundamental settlement of the disputes between the both sides would be unrealistic," Vincent Chan, head of China equity research for Credit Suisse wrote in a note to clients. "The political and economic relationship between China and the U.S. has changed dramatically in the last few years."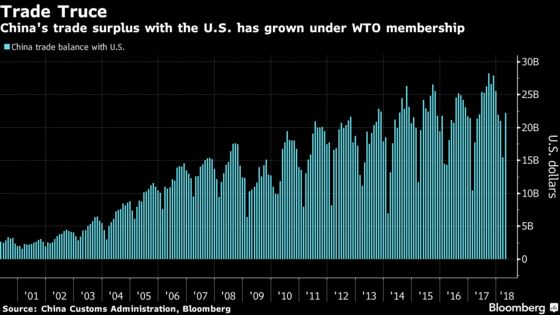 Things do look less heated than just a few months ago, when the uncertainty turned stocks in China into the world's worst performers. Morgan Stanley says that while tensions can still quickly escalate -- especially when it comes to intellectual property -- the joint statement shows a willingness to negotiate from both sides.
"The U.S. and China will eventually negotiate a deal that will bring about a gradual and non-disruptive adjustment in the trade relationship, thereby limiting the impact of trade frictions on economic growth," Morgan Stanley economists led by Robin Xing wrote in a note.
China joined the WTO at the end of 2001 after a lengthy accession process in which it agreed to open up its goods and services industries to global competition, with commitments to reduce trade barriers in insurance, banking, telecoms, textiles and agriculture.
Though Societe Generale SA is also skeptical that the weekend's truce signals any major change in the economic relationship between China and the U.S., the bank's analysts acknowledge that the de-escalation may help sentiment in the short term.
"Although some of the more fundamental difference is largely left unaddressed, trade tensions are buried for now -- good news for all," Societe Generale analysts and economists including Klaus Baader wrote in a note dated Monday.