Back to Normal for Technology Heavyweights as Fear Disappears
(Bloomberg) -- With tariff tensions between the U.S. and China on hold, tech investors have stopped holding their breath.
Rapprochement between the world's two biggest economies, little follow-through on regulation that might threaten tech firms' business models, and another blockbuster earnings season have allayed fears about the near-term outlook for the Nasdaq 100 Index.
The spread between the Cboe Volatility Index -- a gauge of the implied volatility of the S&P 500 Index over the next month -- and the equivalent measure for its tech-heavy counterpart has shrunk to below 4 points, in-line with its one-year average.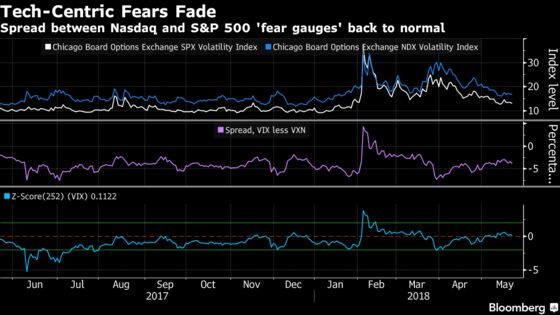 This trifecta of fears of a regulatory crackdown, escalating trade tensions with China, and concerns about how long stellar earnings growth would endure gave March's selloff in U.S. equities a tech-centric tenor. The implied volatility spread between the indexes blew out to two standard deviations beyond its annual average amid an unprecedented selloff in the FANG quartet and its ilk.
A dissipation in fear is also present in three of the single stocks -- Apple Inc., Alphabet Inc., and Amazon.com Inc. -- that have their own gauges of one-month implied volatility. The spread between the VIX Index and the mean of these metrics is actually tighter than it's been over the past 252 sessions, on average.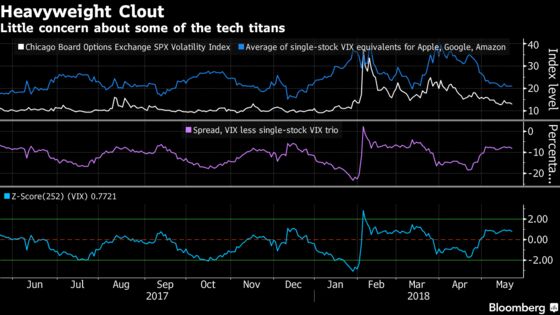 Since earnings season commenced in mid-April, the Nasdaq 100 Index's 4.2 percent advance has bested the S&P 500 Index by about 1.5 percentage points.