U.S. Stocks Retreat, Treasuries Rise With Dollar: Markets Wrap
(Bloomberg) -- U.S. stocks fell in light trading, the dollar rose and Treasury yields retreated as investors assessed conflicting signals on trade talks between the world's two largest economies.
The S&P 500 Index edged lower on volume 8 percent below the 30-day average, adding to a weekly loss. Technology shares slid after Applied Materials Inc. reported weak results. Small caps pushed to a fresh record as the dollar headed for its strongest week since 2016. Brent crude held below $80 a barrel and gold halted a slide. The 10-year yield fell below 3.1 percent.
In Europe, the common currency fell and Italian 10-year bond yields jumped to the highest since October amid uncertainty over the Five Star Movement-League coalition's policy platform as they attempt to form a government. The region's major equity benchmark pared an eighth straight weekly advance.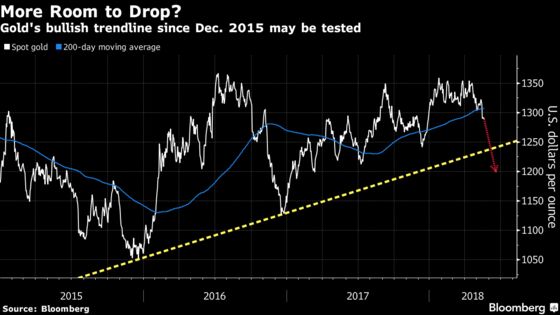 Investors are closely watching progress on the latest China-U.S. trade talks for signs of a breakthrough that could reignite a recent rally in global equities, while factoring in oil prices at a four-year high and a 10-year Treasury yield now firmly above 3 percent. Politics in peripheral Europe are also back in the spotlight after Italy's populist leaders sealed a coalition agreement and a plan for reforms seen as a challenge to the European Union establishment.
The Turkish lira weakened to a fresh record as emerging market currencies headed for their biggest weekly slump since November 2016.
Terminal users can read more in our markets live blog.
These are the main moves in markets:
The S&P 500 fell 0.2 percent at 4 p.m. in New York. The index is down 0.5 percent in the five days.
The Dow Jones Industrial Average rose 0.1 percent. It fell 0.4 percent in the week.
The Stoxx Europe 600 Index dipped 0.3 percent. It rose 0.6 percent, an eight straight advance.
The MSCI Asia Pacific Index increased 0.1 percent.
The MSCI Emerging Market Index declined 0.6 percent to the lowest in more than a week.
The Bloomberg Dollar Spot Index climbed 0.3 percent to the highest in more than 20 weeks.
The euro decreased 0.2 percent to $1.1768, hitting the weakest in five months with its fifth consecutive decline.
The British pound declined 0.3 percent to $1.3479.
The Japanese yen rose 0.1 percent to 110.705 per dollar, halting a four-day slide.
The yield on 10-year Treasuries fell five basis points to 3.0633 percent, the first retreat in more than a week. The rate topped 3.11 percent earlier in the five days, the highest since 2011.
Germany's 10-year yield decreased one basis point to 0.63 percent.
Britain's 10-year yield declined six basis points to 1.50 percent, the biggest fall in two weeks.
West Texas Intermediate crude slipped 0.3 percent to settle at $71.28 a barrel. Crude in London posted a sixth straight weekly gain, the longest since 2011.
Gold futures added 0.2 percent to $1,292.10 an ounce.