Hong Kong's $10 Billion Deals Offer Punters an IPO for Any Mood
(Bloomberg) -- Hong Kong's IPO chasers are spoilt for choice. Fancy a glittering Chinese tech firm with ambitions to take on Apple Inc.? Or are duller state-owned giants more your thing?
Two megadeals are vying for attention in what's become a busy year for new listings in the city. China Tower Corp., which owns one of the world's biggest collections of telecom towers, on Monday filed for an initial public offering that will probably raise about $10 billion, similar to what analysts predict smartphone maker Xiaomi Corp. is aiming for.
China Tower has all the markings of a stock that investors will screen for its bond-like properties, be it low volatility or the prospect of higher dividends. Comparable firms in the U.S., such as American Tower Corp. and Crown Castle International Corp., are lumped together with real estate stocks that on average trade at 33 times next year's earnings. While they've been loved by income-seekers for years, rising bond yields make these stocks less attractive.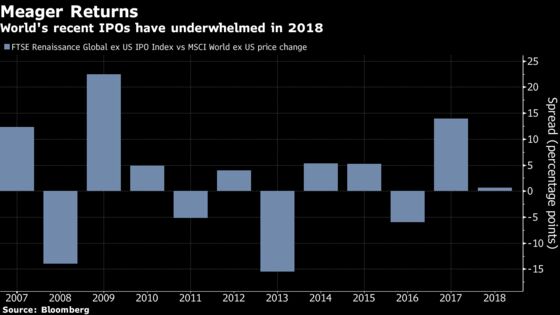 Recent trends in the equity market don't bode too well for Xiaomi either. Shares of China's tech startups that have gone public in the past year have struggled, even though their IPOs are multiple times oversubscribed. A gauge of Chinese Internet and tech shares is still more than 8 percent below its January record, and Hong Kong investors are piling into hedging strategies.
The deals come at a time when one of Hong Kong's most popular investment strategies -- borrow big and plow the money into a red-hot IPO -- is starting to fail. Among recent popular IPOs, China Literature Ltd. is down more than 30 percent from its peak. Razer Inc., Yixin Group Ltd. and ZhongAn Online P&C Insurance Co. are all down more than 40 percent from their respective highs, and Ping An Healthcare and Technology Co. is below its offer price.
While there were tentative signs of a rebound in the broader market, the Hang Seng Index lost 1 percent on Tuesday to halt its six-day winning streak.
China International Capital Corp. and Goldman Sachs Group Inc. are joint sponsors for the planned China Tower share sale, according to the filing Monday.