'Short of a Lifetime' Bunds? BNP Revives Idea With Its Bold Call
(Bloomberg) -- The "short of a lifetime" trade is getting a revival.
Three years ago, celebrated fund manager Bill Gross touted the idea of going short bunds on the premise that 10-year German yields -- then around 0.10 percent -- represented valuations in bubble territory. And now, BNP Paribas SA seems to be offering a second chance to play that bet, suggesting bunds will slump before the end of the year as the euro-zone economy picks up steam.
The yield on the securities will climb to 1.10 percent from 0.39 percent now, according to the French bank, on strong regional demand and higher inflation.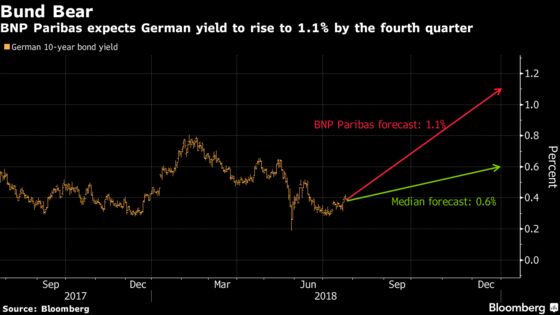 "Our view is very non-consensus that we're going to see bund yields rise quite a bit higher in the second half of the year," Steven Saywell, senior multi-asset specialist at BNP Paribas, told Bloomberg Television, pointing to inflationary pressures. "When you have a sustained level of growth above trend for some time you certainly start to see wages pick up."
The first test to Saywell's view could come on Thursday, with any hint from ECB President Mario Draghi that he plans to raise the deposit rate earlier than markets expect set to depress government bonds. Money-market pricing suggests traders don't see an increase from minus 0.40 percent until at least December next year.
BNP Paribas' forecast for 10-year yields is higher than any in a Bloomberg survey, which has Investec as the most bearish with an estimate of 1 percent by year-end. All banks, however, see yields rising from current levels, with the median forecast at 0.60 percent.