The Investment Nannies Who Want to Lure Foreign Cash to Ukraine
(Bloomberg) -- When it comes to investors, Ukraine is proud to call itself a nanny state.
The Covid-19 crisis is adding to the urgency of plans to lure capital from abroad, giving a spark to an idea first floated by President Volodymyr Zelenskiy at Davos: to offer investors with enough cash a dedicated local minder to navigate the former Soviet republic's often hair-raising bureaucracy.
The "investment nannies," who'll be assigned to anyone bringing in $30 million or more, may be a tough sell. Corruption remains a key challenge for Ukraine and the Kremlin-backed war that erupted after Vladimir Putin swiped Crimea in 2014 rumbles on. Repeated stabs at mass privatizations have fallen flat in recent years.
But Zelenskiy wants to attract $7 billion from abroad in the next 18 months, trading tax breaks for thousands of new jobs in factories and logistics centers. Legislation is being drafted to create a Nanny Corps, a group of 15-20 project managers. The president hopes they can help tip the scales in Ukraine's favor.
"It's a name that catches your attention and everyone says it could be very interesting, even for outside investors," Olga Magaletska, who's spearheading the initiative, said in a Zoom interview from Kyiv. "The word itself is catchy."
New investors would be especially welcome as Ukraine grapples with its worst economic slump since 2014. In the longer-term, the pandemic could represent an opportunity for the nation of 43 million people to attract foreign companies keen to safeguard against threats to supply chains stretching to Asia by building up capacity nearer to home.
"Because of the crisis in the world, one has to fight for investments," Zelenskiy said on May 20. "We'll fight."
Resource-rich Ukraine, which lies at the crossroads between Russia and the European Union, has struggled to consistently draw foreign direct investments over the decades as promises were made and then left unfulfilled. It brought in $2.4 billion in 2019 -- less than a third of the $9.9 billion peak in 2008.
The last major acquisition was Mittal Steel Co.'s $4.8 billion purchase of the Kryvorizhstal steelmaker 15 years ago.
"The Covid-19 pandemic is significantly impacting Ukraine's private sector," said Jason Pellmar, the International Finance Corp.'s regional head for Ukraine, Belarus and Moldova. "It's critical to continue the reform momentum, now more than ever to improve the investment climate and to attract more foreign and domestic investment."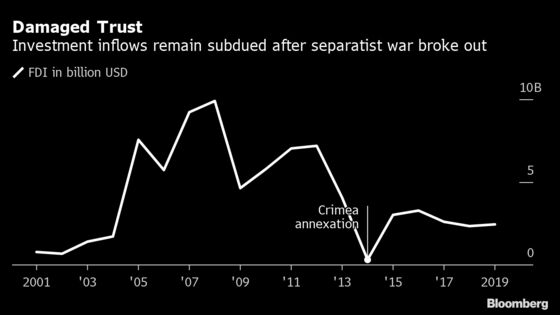 Ukraine has made progress on bringing more transparency to areas including government procurement. But red tape and institutional graft are barriers that successive presidents have failed to resolve, while the country ranks 126th in the latest Corruption Perceptions Index by Transparency International and 64th in the World Bank's Doing Business ranking.
The nannies' task will be to take individual investors by the hand, ensuring applications are full and transparent, guiding them through the myriad national and regional bureaucracies and making sure the process is smoother than the gridlock that investors have traditionally faced.
And that's the rub, some critics say. The program risks not only papering over long-standing issues but also leaving smaller investors at a disadvantage.
"It creates and supports unequal rules of the game," said Ilona Sologub, chief executive officer of the Vox Ukraine think tank. "Moreover, if such investment offices or 'investment nannies' manage to attract some investors, this reduces the sense of urgency for reforms that are beneficial for all investors -- large, small, domestic or foreign."
Magaletska is aware of the wider need to improve the business climate, recalling that some projects over the years were stopped cold by a single bureaucrat brandishing demands. But with strong agriculture, metals and engineering industries, Ukraine can be a place for multinational companies to expand facilities for food processing, spare parts and finished goods.
So what makes a good nanny?
Like the namesake implies, it's about building relationships.
"It's nice to make clients happy," she said. "But the real thing is to get the job done and to help the investor go through all the stages, to bring a new project into Ukraine and to start a business, to open a facility and production. I believe it is an opportunity for Ukraine, but we need to get to it now."