`Kinked' Volatility Curve Heralds Rocky First Quarter for Stocks
(Bloomberg) -- Investors hoping for a restoration of calm on U.S. equity markets in 2019 had better brace themselves.
That's the warning Credit Suisse analysts delivered Monday, pointing to a "kinked" curve representing implied volatility on the S&P 500 Index. It shows traders anticipating more volatility, especially in the first quarter when a bevy of events that might shock the stock market loom large.
"Currently, 3M vol is trading higher than any point in the curve out to five years, likely a result of upcoming event risk (e.g. China/U.S. trade deadline, two FOMC meetings, and U.S. debt ceiling deadline all in the next three months),'' the bank's chief equity derivatives strategist, Mandy Xu, wrote.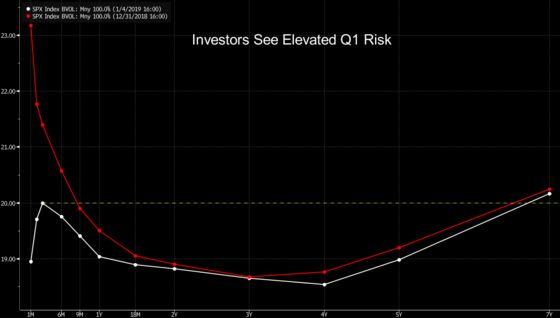 Normally, implied volatility curves slope upward -- so-called contango -- because investors pay more to protect against violent market swings the farther out in the future they have to predict. However, turmoil has seen the S&P 500 curve trend downward into what's known as backwardation as investors anticipate more short-term hubbub before things eventually revert to a more normal level of calmness.
The threat of more volatility might seem overwrought, with the S&P 500 pushing its post-Christmas rally past 8 percent and the Cboe's fear gauge continuing its retreat from 10-month highs.
But investors should stay vigilant, according to Wells Fargo derivatives strategist Pravit Chintawongvanich, as big up days don't decrease the odds of big down days.
The VIX, which measures expectations of volatility, is running 11 points below the realized gyrations on the S&P 500 -- a gap that normally goes the other way. A deficit for the VIX tends to be resolved by a subsequent rise in the fear gauge, the analyst notes.
"If the S&P 500 Index is capable of rallying 3.4 percent in a single day, that doesn't make it less likely to experience a 3.4 percent sell-off. Yet, oddly, that is what the VIX is saying now,'' he writes. "Another large sell-off is in the cards (along with a higher VIX) in the next few weeks.''