'It Was Only Going Up': Trading China's Biggest Rally in Years
(Bloomberg) -- For the first time in a long time, Gerry Alfonso had no doubt about where Chinese stocks were headed.
"Reading the market was so clear," said Alfonso, a trader at Shenwan Hongyuan Group Co. in Shanghai. "It was only going up."
After years of what might be best described as low-conviction trading, China's $6.4 trillion stock market roared back to life on Monday. The CSI 300 Index soared almost 6 percent -- entering a bull market -- as turnover jumped to the highest level since the aftermath of the country's 2015 market crash. All but 14 of 3,649 stocks in Shanghai and Shenzhen recorded gains.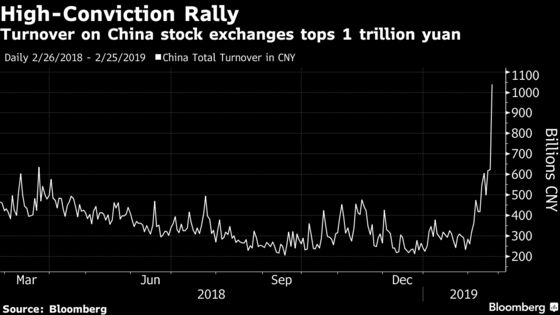 "I had quite a few calls from people who have never called me before, wanting to buy," said Alfonso, who works with institutional investors and plans to come into the office early tomorrow to deal with increased order flow.
While views are mixed on how long the rally will last, most of the investors, traders and analysts interviewed by Bloomberg on Monday were still bullish. Here's what they said:
Li Changmin, managing director at Snowball Wealth in Shenzhen
I wouldn't be worried if the index rises more from here. I'm holding on to my stocks because this is just the beginning of a very long trip upwards.
Hao Hong, chief strategist at Bocom International in Hong Kong
I wouldn't jump off the wagon despite the sudden increase today. Even the big boss is voicing support for the capital market. What else do you need for a reason to buy? Valuations are cheap and liquidity is flowing in.
Yang Ziyi, fund manager at Shenzhen Sinowise Investment, who missed out on today's rally because of his fund's trading restrictions
There's only so much I can buy. I've been moving like a snail compared to the market. But there will always be a tomorrow.
Zhuang Jiapeng, partner at Shenzhen JM Capital
We all need to slow down. Many of us have just paid back the margin losses from a few years ago. I'm afraid people have forgotten many of the painful lessons of 2015. It's all happened too fast.