'It Is Quite Spotty': Apollo Sees Lack of Distress Persisting
(Bloomberg) -- Distressed investing has gotten incredibly difficult with central banks aggressively fighting Covid-19's economic drag. A senior executive at private-equity giant Apollo Global Management Inc. says that might take 18 months or longer to change.
"It's hard to see distress on the doorstep in '21, possibly late '22," James Zelter, co-president and chief investment officer of credit at Apollo, said in a Bloomberg Television interview Wednesday. "Putting new money in today, it is quite spotty."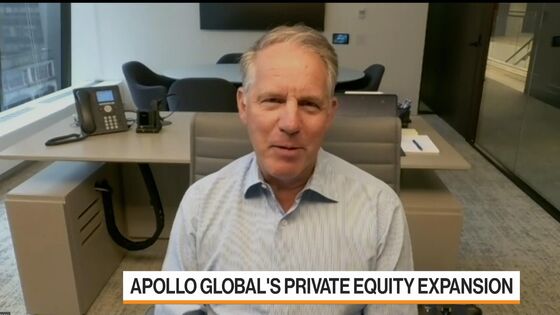 Distress quickly disappeared following the pandemic panic that arrived in markets in March 2020. Though there were high-profile bankruptcies and huge numbers of bonds trading at levels signaling trouble, opportunities to invest rapidly went away as central banks pumped out economic stimulus.
Read More About the Troubles in Distressed Investing
Distress "will certainly come," he said. "Economic cycles will come back, there usually is always some signs of excess, but certainly in the easy-money fiscal stimulus environment right now" its return isn't imminent, Zelter added.
Apollo is long the U.S. recovery and invested in sectors including travel and hotels, Zelter said. Last year, Apollo deployed about $90 billion, with a large chunk in credit. Year to date, the firm has deployed $25 billion, of which about $18 billion is in credit, he added.
The private-equity firm has been expanding into new ways to make money. Apollo recently announced it's venturing into a $1 billion credit-secondaries business led by its insurance clients, its first since a merger with insurance offshoot Athene Holding Ltd.
This shift toward serving insurance companies means the company is looking at lower investment returns, he said. "When we approach the world, we're looking for great opportunities in the 4% to 8% zip code."
While distressed investing is in Apollo's DNA, the breadth of the firm's platform allows it to invest in a variety of assets, including long-short vehicles, loans and high-yield debt, Zelter said.
"We are finding opportunities," he said. "But the double-digit, mid-teens distressed opportunity is not plentiful today."