'Imperative' to Push Women to Top of Companies, Says IMF's Lagarde
(Bloomberg) -- Women, unite. One of the world's most influential women is calling for more females to become business leaders as a way to address the issue of corporations being too myopic.
"Bring more women to the business. That is an imperative. It's true," Christine Lagarde, managing director of the International Monetary Fund, said during a panel discussion at the New Economy Forum in Singapore, responding to a question about how to fix this short-term focus.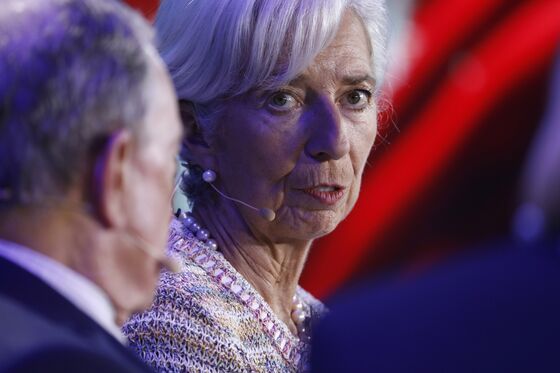 More than three-quarters of large organizations globally are looking to add women to their upper echelons. Still, as of April, women held only one in four positions at the manager level or higher in Asia, a McKinsey & Co. report shows. That compares with more than one in three at companies in the U.S. and Europe, according to Catalyst, a nonprofit organization that advises firms on diversity and inclusion.
Speaking alongside KKR & Co. co-founder Henry Kravis and Goldman Sachs Group Inc. Chief Executive Officer David Solomon, Lagarde lamented the gender gap in the financial sector -- only 2 percent of women are CEOs, and 20 percent are executives. Her exhortation prompted her fellow panelists to concur. Kravis said organizations that are more diverse at the executive level have better results, while Solomon said: "We haven't gone fast enough, and we have to go faster."
Lagarde's call for more women in power was echoed by others at the conference.
"The more senior you get, the less you experience" discrimination, Minouche Shafik, director of the London School of Economics and the former deputy governor at Bank of England, said at another session. "It's hardest when you are young and junior, so the answer is to get more women into power." Less than a third of central bank governors and deputy governors worldwide are women, and their representation in governance bodies has been stagnant in the past 15 years.
The New Economy Forum is being organized by Bloomberg Media Group, a division of Bloomberg LP, the parent company of Bloomberg News.