'Hint of Failure' in S&P 500 Rally That Can't Breach Key Level
(Bloomberg) -- The S&P 500 Index's struggle to climb above a key technical level is a sign of concern for chart watchers trying to assess whether the rally in U.S. stocks has legs.
History shows the benchmark gauge has remained weak after rising close to -- but failing to top -- its 200-day moving average, according to Jason Goepfert of Sundial Capital Research Inc. He looked at times when the index traded below the milestone for at least a month, rose to within 0.5 percent of it, and then fell back to at least 1 percent below in "an initial hint of failure."
"Even if the S&P clawed back from its rejection and closed above the 200-day, several of them ultimately failed," Goepfert wrote in a note on Thursday. "Over the next two to three months, returns were especially weak."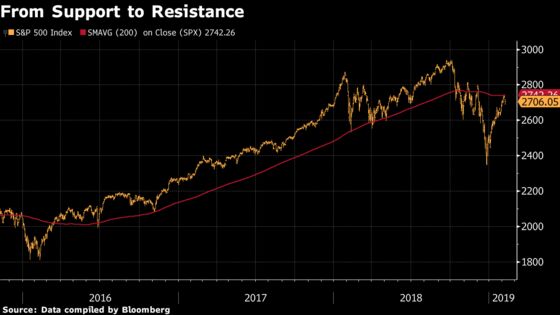 Goepfert included 16 instances from 1933 through 2011 in his analysis, and found that the median return was minus 4.3 percent over two months, and negative 1.6 percent after a year. There's good news though.
He noted that the S&P 500's current streak of staying below the 200-DMA for 44 days -- the index hasn't climbed above the milestone since early December -- isn't terribly long when measured against such periods in the past.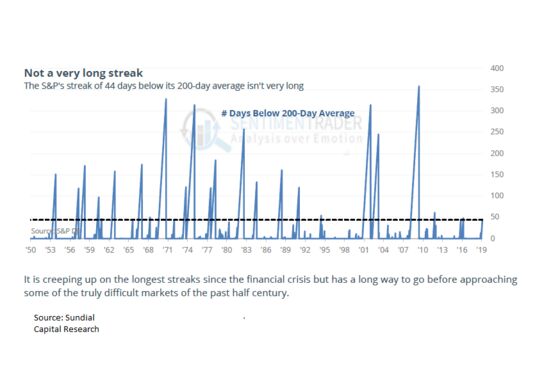 The 200-DMA is an obsession on Wall Street from technical analysts, traders to real-money investors as a key signal for market direction. While the level served as support through much of 2018, it finally gave way in the October downturn. The index has rallied since the Christmas Eve sell-off, and on Tuesday came within a whisker of the average before falling in the next two days.
"The fact that it rejected breaks above there since breaking below on Oct. 11 should be seen as a bearish signal longer-term," Andy Dodd of Louis Capital Markets in London said Friday.
Goepfert said that the picture further out might be somewhat pessimistic.
"There was a high correlation between returns during the next month and those over the next year," he wrote, "suggesting that if this failure sticks and the S&P continues to pull back over the next several weeks, it would be an ill omen for the longer-term."