'Hidden Gem' Oil, Gas Stocks Hold Strong Amid Climate Uproar
(Bloomberg) -- Energy-stock investors are clinging to their holdings, buoyed by rising commodity prices and profits, as the companies face historic pressure to confront climate change.

The world's still ravenous for oil and gas, according to Rafi Tahmazian, senior portfolio manager at Canadian investment mnagement firm Canoe Financial, making the oil and gas group a "hidden gem." Energy is the best performing sector in the S&P 500 this year, up about 36% compared with a 12% rise in the broader index. The S&P 500 Energy index rose 0.9% Wednesday, outperforming broad markets.
"You have to reduce the demand and you will kill the oil supply. Until that happens, we do not see any threat to the sector. In fact attacking the oil production just extends the upside for the sector," Tahmazian said.
Stockholders are seeing their loyalty tested like never before. A Dutch court ordered Royal Dutch Shell Plc on Wednesday to slash its emissions harder and faster than planned. And enough Exxon Mobil Corp. holders broke ranks Wednesday to help activist Engine No. 1 win two board seats in a bid to push for climate-change strategies at the oil giant.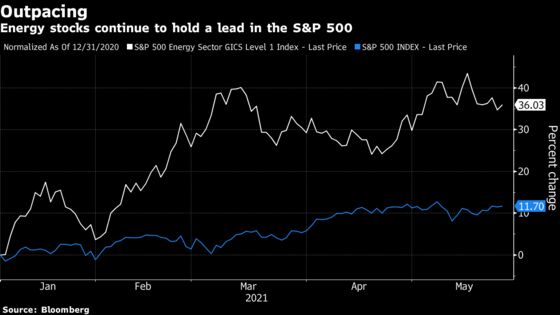 Last year when oil and gas stocks were among the market's worst performers, it was low crude prices and demand destruction from Covid-19 doing the damage, not the threat of addressing climate change, according to Bloomberg Intelligence. "The climate headlines are just headlines for now," BI analyst Fernando Valle said. "Until there is an actual cost associated with these changes, there shouldn't be major impacts."
Indeed, Exxon shares have risen over 43% this year as the company has covered its dividends and reduced spending, according to Barclays. "While Engine No. 1's nominees appear to have merits, we don't think a major change in XOM's current direction or strategy would benefit current shareholders," the bank told clients in a note Tuesday.
While Exxon and its rivals are jumping into clean energy segments, returns still matter to investors, according to Cornerstone Macro LLC. "Public opinion and advocacy are pushing all companies toward more responsible climate initiatives," global energy strategist Thomas Marchetti said. "However, we expect that U.S. majors will look to invest into those climate strategies that compete with other projects to earn returns over the long run."
Meanwhile, Canadian oil sands giant Suncor Energy Inc. laid out its goal Wednesday morning to to reduce greenhouse gas emissions by 10 megatons annually by 2030. Suncor said its emissions were about 29 megatons per year in 2019. The stock advanced 0.3% in Toronto.