'Giant Risk Event' Makes Hedging a Good Bet in 2020, TD Says
(Bloomberg) -- Traders should brace for heightened volatility in 2020 as the U.S. presidential election becomes one more reason for investors to hedge, according to TD Securities.
The firm calls next year's vote "a giant risk event," and expects President Donald Trump to become the first American leader to be impeached by the House while running for re-election. A surge in volatility would shatter the recent market tranquility that's been driven by signs of a rebounding economy and progress in U.S.-China talks. In a report released Tuesday, TD outlines 10 ways in which its outlook deviates from consensus expectations.
Two of them are by favoring gold and 10-year Treasuries, both on the view the Federal Reserve might ease by 50 basis points in 2020, instead of just over 25 basis points as expected by the market. Treasuries "are an attractive hedge" partly on prospects for further easing, a scenario that might also send the metal higher. While TD bets on a phase-one trade deal between the U.S. and China, it says a complete accord won't likely be done until after next year.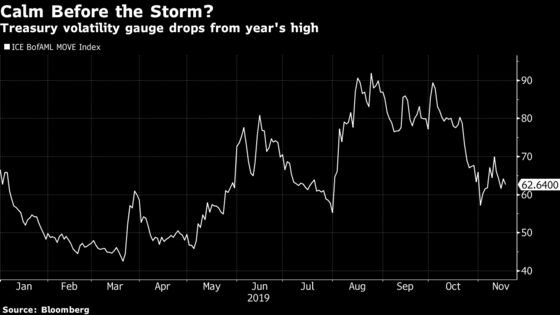 "Unfortunately, 2020 shows no signs of reprieve from being beaten and battered by structural uncertainty," said TD strategists including Richard Kelly, James Rossiter, Priya Misra and Mark McCormick. "If anything, an apparent de-escalation from an intense trade war to a cold trade truce only sets the stage for a re-escalation in U.S. politics from the next presidential election."
With U.S. and global yields likely to remain low in 2020, TD recommends shorting the U.S. dollar against the yen. That's because it expects the pair's upside to be limited as the Fed eases and as the Bank of Japan will probably remain sidelined. While gold may not have so much upside in the short run, TD's analysis shows that a rally to $1,650 an ounce (from about $1,472 Tuesday) is in the cards for next year as modest global growth assures "a low rate environment and continued Fed monetary accommodation."
The risk with all these outlooks is that they can become outdated rather quickly, Misra, global head of rates strategy, said by phone Tuesday. "Investors should be positioned for the entire distribution of outcomes since those assumptions can change over time," she said.
TD's 2019 outlook released last November, for example, didn't exactly pan out.
Back then, the firm saw global growth remaining above trend, had expected U.S.-China trade tensions to be contained, and counted on three 2019 rate hikes -- in line with the Fed's own forecasts. In addition, TD expected the 10-year yield to peak around 3.4% in mid-2019. It got no higher than 2.8% in January and plunged to a three-year low in September. Also: the Fed cut rates three times amid weakening growth.