'Frenzy' for Airline Stocks Spurs Dislocations in $2 Billion ETF
(Bloomberg) -- Insatiable demand for travel stocks following Monday's vaccine breakthrough is sending ripples through the world's largest airlines-focused ETF.
The $2.1 billion US Global Jets ETF (ticker JETS) surged over 16% Monday, buoyed by record-high trading volume after news the Covid-19 shot being developed by Pfizer Inc. and BioNTech SE prevented over 90% of infections in a large-scale study.
The ETF's rally drove it to a 1.8% premium over the value of its underlying holdings, according to data compiled by Bloomberg. That's the biggest disconnect since March, when JETS surged 19% following the Federal Reserve's announcement that it would backstop credit markets.
The rush into JETS highlights how eager investors are for exposure to some of the stock market's most-battered members should a successful vaccine lead to broad economic reopenings. Even with Monday's surge, JETS has slumped over 35% in 2020 as global lockdowns halted travel. Now, with a potential light at the end of the tunnel, traders are willing to pay up for JETS, according to Bloomberg Intelligence.
"This is an ETF feeding frenzy of the first order, as evidenced by a fanatical price spike combined with record volume as investors, were fine paying up a bit to get in," said Eric Balchunas, senior ETF analyst with Bloomberg Intelligence. "When people want in, they want in."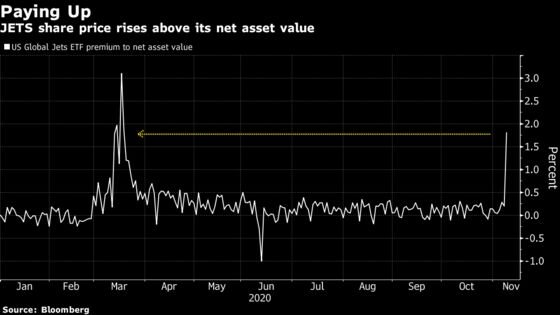 That euphoria cooled on Tuesday, with JETS dipping 0.9% as U.S. trading kicked off. But still, expectations for future gains remains elevated. Short interest as a percentage of shares outstanding on JETS dropped is just 0.03%, according to data from IHS Markit Ltd. That's close to the lowest level in nearly 5 years.
Meanwhile, the vaccine advance unleashed a wave of bullish options buying. Total call volume spiked to 164,000 contracts on Monday, the most on record, according to Bloomberg data.
"There's this penchant to buy the dip, so you've had -- what are the most beat up areas of the market? They were the areas most negatively impacted by Covid," said Dan Russo, chief market strategist at Chaikin Analytics. "It stands to reason there's a heavy element of retail investors getting involved in some of these airline stocks."