'Extreme' U.S. Stock-Bond Volatility Gap Is a Boon for the Bulls
(Bloomberg) -- Rising U.S. Treasury yields may have fueled the swoon in stocks, but right now the bond market is flashing a green light for equity bulls.
Equity volatility has intensified while rates volatility is off its peak, pushing the ratio between the two to "extreme" levels near historic highs, according to Keith Parker, the head of equity strategy at UBS Securities.
The Cboe Volatility Index and the Merrill Lynch Option Volatility Estimate Index are gauges of the expected swings in U.S. equities and bonds, respectively, over the next month. Whenever the ratio between the two has exceeded 0.35, future returns have tended to be particularly impressive, according to UBS.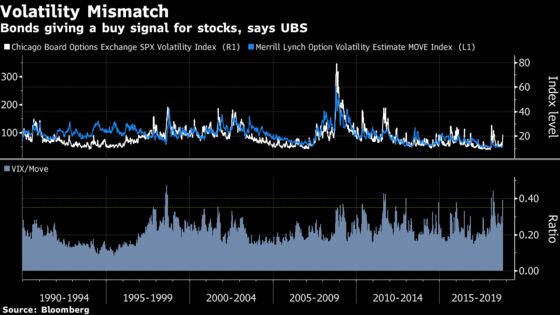 "S&P 500 forward three-month and six-month returns have averaged 6.5 percent and 16 percent, respectively, at these levels of relative vol," Parker writes.
Since the 2008 financial crisis, there have been few instances in which this measure has blown out to similar extremes, notably when concern about Greece's debt was at its peak and in early 2016 when investors worried about the potential for a hard landing in China. In both those cases, U.S. equities rallied in the aftermath.
Quality stocks should lead the way as major U.S. benchmarks rebound, Parker reckons.