'Can't Believe What's Coming Across': Traders React to Headlines
(Bloomberg) -- Renewed trade jitters spurred a surge in stock volatility as conflicting signals from both the U.S. and China over trade mystified investors.
Stocks were whipsawed in early Friday trading and the Chinese yuan briefly weakened to above 7 per dollar after President Donald Trump disputed reports that the U.S. is prepared to partially roll back existing tariffs. Minutes later, stocks jumped and the yuan extended gains after Chinese officials cited a major advancement in trade talks.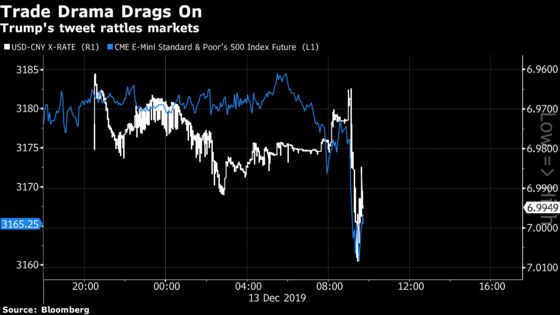 Here's how traders and market watchers reacted:
Scott Bauer, chief executive officer at Prosper Trading Academy:
"There's so much skepticism, so much confusion. I don't think the market has fully digested this yet. It certainly seems to be buy the rumor, sell the news," he said. "People are becoming very numb to it and not believing what they see. It's becoming more annoying than nauseating, in the sense that we can't believe what's coming across the tape. It's great for traders. It's not great for the retail investor."
George Pearkes, macro strategist at Bespoke Investment Group:
"Par for the course with trade headlines: Individual quotes and reporting are basically meaningless, and contradictions continue to fly back and forth. We will be skeptical of every positive and negative headline related to trade indefinitely, and wish the market wasn't so credulous of the charade."
Brad McMillan, chief investment officer for Commonwealth Financial Network:
"There's enormous incentive on both sides to get a deal done. This will help markets in the short run but my real question is how does this play out going forward? There's a lot we need to figure out before we get too excited. The headline news is great, but we want to see what this actually means. Given what we've seen over the negotiation thus far, you don't have a deal until the deal is done. The headline is obviously positive but markets have maybe learned not to get too excited until they get the specifics."
Matt Maley, an equity strategist at Miller Tabak & Co.:
"The market, I believe, has been pricing in a delay or postponement of the December 15 tariffs. That's already priced in. Yesterday, the market rallied on the assumption that existing tariffs will be rolled back. If that does not happen, it's a negative and the market has to come back," he said. "The only way it gets hit hard is if we get no deal and the new tariffs are imposed."