'America First' No More for Funds Dumping U.S. Credit for Europe
(Bloomberg) -- For a half decade, European credit buyers have traveled across the Atlantic to sate their appetite for yield. Now, a growing pack of them are eyeing their return in the place vilified for zero rates.
High-grade bonds in euros are dangling the highest yield relative to U.S. counterparts in at least five years on a swapped basis, thanks to angst over Rome's fiscal stance and premiums for currency hedging.
That's sparking something of a 'comeback trade' enticing large money managers.
Hague-based NN Investment Partners BV with the equivalent of $280 billion in assets has closed its overweight on American credit, turning underweight on junk-rated debt, as it awaits opportunities to add corporate obligations in the single currency. BlueBay Asset Management LLP, meanwhile, now favors euro high-yield credit over U.S. counterparts, dubbing investors "too gloomy" on Europe's economic and political prospects.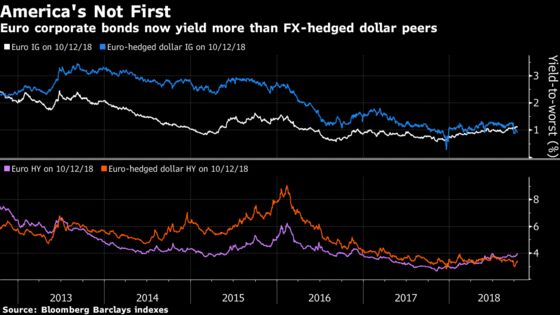 "There is scope for some modest spread tightening by year-end," said David Riley, chief investment strategist at BlueBay.
High-grade dollar credit pays 0.9 percent for hedged buyers, compared with 1.1 percent for euro-denominated peers. Similarly for speculative-grade bonds, those in euros yield almost 4 percent versus 3.3 percent for notes denominated in the greenback swapped back into the single currency.
"Any easing of risks in Europe and emerging markets could lead to a comeback in performance relative to the U.S.," Pieter Jansen, senior multi-asset strategist at NN Investment Partners, wrote in a note Monday. "Investment grade and high yield bonds in Europe and emerging markets have strong potential to catch up on their U.S. counterparts."
Still, the fund is keeping its powder dry until political risk in Italy eases.
With JPMorgan Chase & Co. warning last week's equity meltdown underscores the risk U.S. markets are gripped by "late-cycle vulnerabilities," European buyers may have an extra incentive to stay closer to home.