'A Narrative of Fear': Plunging Stocks Finally Heed Bond Signal
(Bloomberg) -- Growth is slowing while stock valuations expand and breadth narrows. Throw in a surprising drop in Treasury yields and the result is volatility.
The S&P 500 Index fell as much as 1.6% on Thursday, the most since May, as all major industries slipped. Commodity and financial shares led the retreat, the latest sign that the once-hot reflation trade is sputtering, with the delta variant of coronavirus quickly spreading and talk about monetary stimulus heating up in China.
Just last week, the S&P 500 rose to record for its seventh straight session, a feat not seen since 1997. For eight months, the benchmark has gone without a peak-to-trough decline of 5%, the longest stretch since 2018.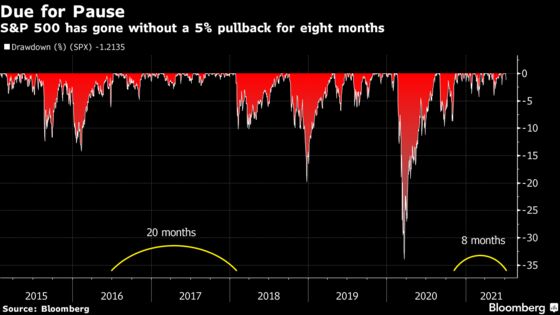 "When the market is as expensive as it is today, it doesn't necessarily need a specific catalyst to change investor psychology," said Matt Maley, chief market strategist for Miller Tabak + Co. "The Treasury market sniffed out these concerns earlier this week and now the stock market."
A wave of selling landed right at the open. The so-called Tick index, which compares stocks' moves second-by-second, showed New York Stock Exchange companies trading on downticks exceeded those on upticks by 2,006 at one point. That's the second-highest in the past year and a reading that before 2020 was seen only once since Bloomberg began tracking the data in 1989.
Here is a compilation of investor and trader views on what's behind Thursday's pullback in the equity market.
Adrian Miller, chief market strategist at Concise Capital Management LP:
"In our view, the bond market is the big brother of the equity market. And when the big brother does something the little brother follows, no questions asked."

"If we are to believe economic momentum can only cool from the current pace, investors need to determine how much should you pay for an economy returning to a normal glide path. And, instead of paying 22x 2021 SPX earnings or 20x 2022 earnings, perhaps the right value is 18x."
Dan Suzuki, Richard Bernstein Advisors LLC's deputy chief investment officer:
"There's a growing narrative of fear out there as well. I think some investors are wondering whether the bond market is signaling slower growth, which is feeding the idea that the peak in growth/inflation numbers is going to signal the shift from positive surprises to negative surprises."
Josh Wein, portfolio manager at Hennessy Funds:
"The S&P is up 16% this year so certainly a giveback on the equities side is to be expected but on the bond side the narrative of inflation driven by labor shortages or product shortages or both -- subdued economic growth globally may be ratcheting down expectations and that is deflationary. I look at the ten-year and I think growth here will maybe be a little bit less than what we thought and also that the idea that we're going to hit an inflation wall with the ten-year being at 1.3%, something doesn't jive there. I'm going to believe the bond market before I believe people saying there is going to be inflation."
Chris Grisanti, chief equity strategist at MAI Capital Management:
"I'm still of the opinion this is a head fake and that we will see higher rates ahead, with the strong GDP growth and corporate earnings growth -- we've stimulated this economy so well and the path for Covid, even though we have these blips, is toward normalcy. I would take advantage of the things going on in the marketplace right now. Like the travel-related stocks, I think they will come back. This is maybe one of the last opportunities to get on that bandwagon if you missed it."
Chris Harvey, head of equity strategy at Wells Fargo & Co.:
A sharp drop in yield "below 1.25% could cause equity portfolio managers to believe that something is wrong or broken. As a result, we see a growing possibility of a 5% sell-off in equities before earnings season."