$125 Billion Pension Fund Buys Stocks as It Bets on Recovery
(Bloomberg) -- Australia's largest pension fund is buying more stocks in an effort to lift returns next year as it bets the economy will recover from the coronavirus pandemic.
AustralianSuper Pty will boost its equity exposure to about 58% of its A$180 billion ($125 billion) portfolio over the next year, from the current 55%, Chief Investment Officer Mark Delaney said in an interview Monday.
With monetary policy remaining easy for the foreseeable future, "I'm more optimistic than I've been for a couple of years," Delaney said by phone. Valuation's aren't demanding and with the economic cycle near the bottom, "it's time to own growth assets," he said.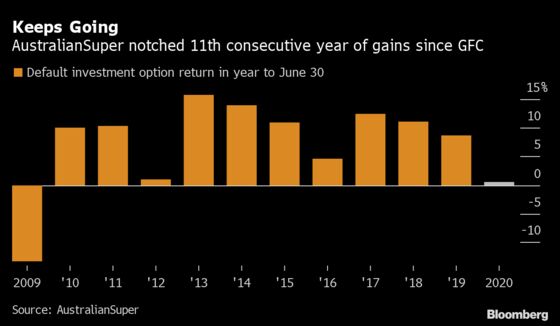 The tilt to more growth assets comes after the Melbourne-based fund announced its default investment option scraped a 0.52% return in the 12-months to June 30, notching its 11th consecutive year of positive returns. Last year, Delaney warned returns would be low or negative as the economic cycled neared its end.
Despite the impact of the Covid-19 pandemic, returns were strong in the first half of fiscal 2020, while markets were buoyed over the past quarter by the "enormous amount" of fiscal and monetary stimulus, Delaney said. AustralianSuper maintained it's long-term weightings in equities during the turbulence, including more than a third allocated to international shares, according to its disclosures.
To be sure, near-term outlook is less certain given there's still risks around the pandemic and the looming U.S. election in November, he said. So the fund is anchoring it's portfolio on a medium term outlook as things are "a lot clearer," he said.
"You're through Covid, you're still pretty early into the recovery, valuations won't be too demanding and interest rates are too low," Delaney said. "That leans us toward having a pro-growth bias portfolio over the next two to three years."