Warren Says Financial Giants Should Be Brought Down to Size
(Bloomberg) -- Corporate giants from Goldman Sachs Group Inc. to Amazon.com Inc. are too big and too powerful and in some cases, they should be broken up, according to Senator Elizabeth Warren.
In an interview with the New York Times' Andrew Ross Sorkin at an event Thursday in Washington to mark the 10th anniversary of the financial crisis, Warren, a Massachusetts Democrat, said that she still believes the biggest American financial institutions are too large and should be broken up so as not to act as both investment and commercial banks.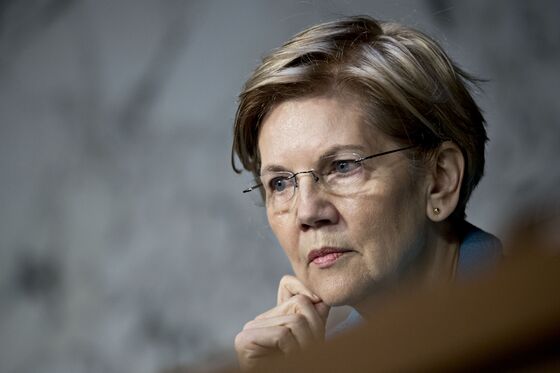 She also said that the size of technology giants like Amazon and Facebook worries her and that companies shouldn't be able to collect data from consumers and then turn around and use it as a competitive advantage to sell products.
"I love markets but markets have to have rules and have to be about competition," Warren said.
Warren is one of the most outspoken critics of Wall Street in Congress, having built her political career on assailing big banks and highlighting corporate abuses that contributed the 2008 financial crisis. She is credited with creating the Consumer Financial Protection Bureau, a central component to the Democrats' response to the crisis.
She said Thursday that while post-crisis rules like the creation of the CFPB have strengthened the financial system, more needs to be done to hold financial executives accountable when they break the law. She also said that there must be stricter rules to rein in Wall Street's influence in Washington, and stop bankers and others from profiting when they work in government.
Warren's remarks came less than two months before midterm elections in which Democrats hope to regain control of the House and Senate, after which jockeying for the party's 2020 presidential nomination will heat up.
Warren has previously dismissed speculation about her 2020 intentions and on Thursday avoided answering questions about whether she would run for president.
"I am running for the Senate," she said. Warren is widely expected to win re-election in November.
She is among the Democrats who've been tugging the party leftward with far-reaching ideas like expanding Medicare for all Americans, a government guarantee of jobs and eliminating the Immigration and Customs Enforcement agency.
Last month, Warren unveiled policies designed to crack down on the "revolving door" between government and Washington lobbyists and also called for new regulations on corporations with more than $1 billion in annual revenue and expand the influence of workers on their boards.