India's Top Court Asks for Details on Deal for French Warplanes
(Bloomberg) -- India's Supreme Court is seeking details from the government over a controversial $8.7 billion deal for Rafale aircraft from France.
The case, which could have political consequences for Prime Minister Narendra Modi, was heard by a three-judge bench headed by newly-installed Chief Justice Ranjan Gogoi. The court asked the government to disclose to the court in sealed envelopes information on the the decision-making process leading up to the high-profile purchase.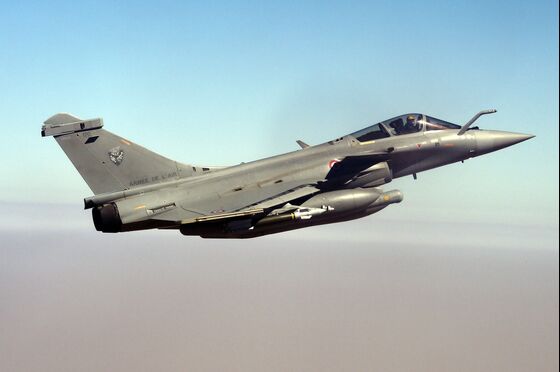 Renewed focus on the deal could fuel opposition critiques of the arms deal ahead of a general election due by May 2019.
"We would like to be apprised of the details of steps in decision-making process leading to award of the contract for defense equipment," the judges said, adding they will only examine whether due process was followed, not the price of the jets or their suitability.
The opposition has accused Modi's administration of scrapping a 126-jet deal negotiated under the previous government and pushing forward with a 36-aircraft contract with less favorable terms. They also allege India's government suggested France's Dassault Aviation SA, which is making the aircraft, partner with Indian businessman Anil Ambani's Reliance Group for a so-called offset contract -- a claim that was later bolstered by former French president Francois Hollande, who was in power when the deal was signed in 2016.
Both the government and Ambani have denied the opposition's allegations.
Attorney General K.K. Venugopal, arguing for the government on Wednesday, said the case was politically motivated. "Please do not entertain this public interest litigation as it is political in nature, filed in the bitter fight between the ruling party and the opposition," he told the court.
Pleas were filed by two lawyers, M.L. Sharma and Vineet Dhanda, who launched a public interest litigation seeking court orders asking the government to disclose details of the deal or scrap the purchase.
Congress party leader Rahul Gandhi raised the matter in parliament and attacked Modi and Ambani in emotional tweets, saying they "dishonored the blood of our martyred soldiers." In a parliamentary session in July, Modi said the Rafale deal was "completely transparent" and the opposition was "trampling on the truth."