Ex-Texas Tennis Coach Says He Took Bribe to Enroll Student
(Bloomberg) -- A former men's tennis coach at the University of Texas admitted taking cash bribes and is cooperating with a U.S. government probe of wealthy parents who used scam tests and bogus applications to get their children enrolled in top American universities.
Michael Center, 55, is one of at least three coaches who prosecutors say are cooperating in the nationwide investigation. At a hearing Wednesday in Boston, Center told U.S. District Judge Richard Stearns that he took tens of thousands of dollars in cash in 2015 from a corrupt college consultant, William "Rick" Singer, in exchange for naming a wealthy family's son to the team.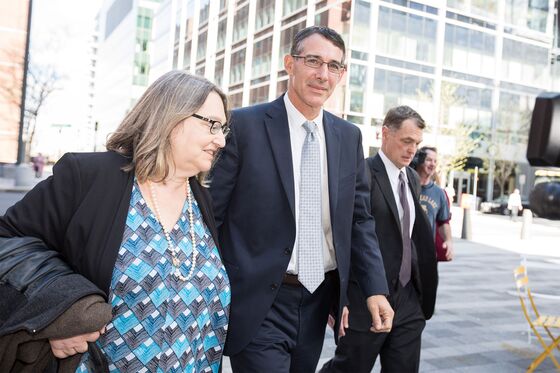 Center, who coached college tennis for almost 20 years, pleaded guilty Wednesday to conspiracy to commit mail fraud and honest services mail fraud, in a deal that could send him to prison for at least 15 months. Center is scheduled to face sentencing on Oct. 30.
Beginning in about 2014, Center conspired with Martin Fox, a Houston man, and Singer to help a student gain admission to the University of Texas as a recruited tennis player "without regard for his athletic ability," the government said. In exchange, he accepted a $60,000 cash bribe, according to a court document filed last month.
The scandal so far has involved dozens of parents who the Justice Department says funneled a total of $25 million in bribes and fees through Singer, the admitted ringleader, for a test-taking surrogate to ace standardized tests for their children, or to pay off university sports coaches to get the kids in as phony recruits. Coaches from Georgetown, Yale and the University of Southern California have also been charged.
Outside the courthouse, Center's attorney, John "Jack" Cunha Jr., called his client a very good man who made a bad mistake. The former coach has mentored scores of young people and "did something incompatible" with the man he has been throughout his life, Cunha said.
"He's very sorry for what he did and at this point wants to make amends," Cunha said.