Zambian Central Bank Mulls China Debt Swap to Build Reserves
(Bloomberg) -- The Bank of Zambia is considering asking China to convert its dollar loans to the southern African nation into renminbi, as it seeks to build foreign-currency reserves that have plunged to the lowest level this decade, Governor Denny Kalyalya said.
The bank is "looking for ways how we can maybe get some swap arrangements," he told reporters Wednesday in Lusaka, the capital. "If it can be denominated in renminbi, that could also mitigate the need to get dollars. Right now that debt is also serviced in dollars."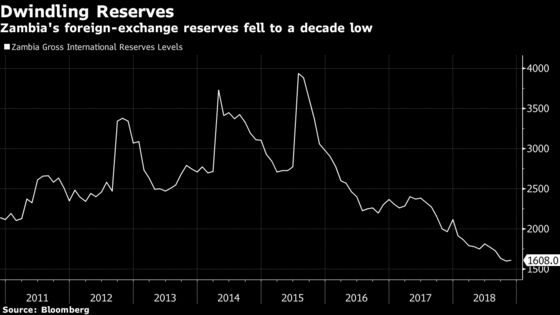 Zambia's external debt almost doubled to $9.5 billion in September from $4.8 billion in 2014, as the government built hundreds of kilometers of roads, power plants and airports. The cost of servicing foreign loans this year is equivalent to about 90 percent of the nation's international reserves, according to Renaissance Capital.
The drop in reserves is "a matter of great concern to us," Kalyalya said.
To help repair them, the central bank has engaged the government on debt contraction and the rate at which it's drawing down reserves to service loans, he said. The Bank of Zambia is also in talks with gold producers to add the metal to its reserves portfolio, according to Kalyalya.
"We are not sitting idle and just watching the reserves go down," he said.